20.09.2022 to 21.09.2022

Creating space: Co-Design your MQ. A hackathon
DIGITAL, ART, ARCHITEKTUR
---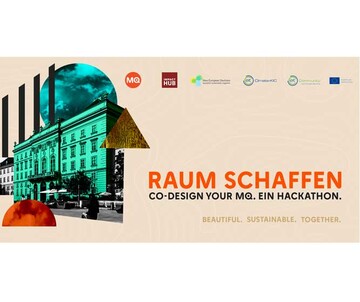 ---
All dates
• Days with event
You have selected the following event:
01 thu
02 fri
03 sat
04 sun
05 mo
---
06 tue
07 wed
08 thu
09 fri
---
10 sat
---
11 sun
12 mo
13 tue
14 wed
15 thu
---
16 fri
17 sat
18 sun
---
19 mo
---
22 thu
23 fri
24 sat
25 sun
---
26 mo
27 tue
---
28 wed
29 thu
30 fri
---
Creating space:
Co-Design your MQ. A hackathon
More and more people are moving to cities, but the available physical space is limited. In order to maintain or even improve the quality of life for everyone, the design and use of urban space must be completely rethought - and preferably involving those who want to live in it.
Question for yourself: How can we create urban spaces that are beautiful, sustainable and collaboratively designed?
MuseumsQuartier Wien, with its around 90,000m2 and 60 cultural institutions already a landmark of coming together, opens its doors and becomes a real playground in which new usage concepts in the sense of climate neutrality can be tried out! Imagine you can try out your idea in one of the world's largest art and culture areas and everyone joins in?

The challenges:
Green Spaces: How can we create temporary, biodiverse green spaces at MuseumsQuartier Wien?
Energy efficiency: How can we find integrative, climate-efficient solutions for the MQ?
Inclusivity: How can we make the Museumsquartier even more open, inclusive and participatory?
Over a period of two days, innovators, creative people and residents develop concrete ideas and initial prototypes for a space designed and used jointly.

We are looking for YOU!
Are you an innovator and already have your own idea(s) or startup that can contribute to a sustainable, beautiful and collaborative MuseumsQuartier?
Are you an interventionist and bring your experience in architecture, art, design, planning, sustainability (or a completely different field) with you to design the MuseumsQuartier together?
Are you interested in the future of your city and one of the world's largest art and cultural areas, you don't have a concrete idea yet, but you would like to work together on exciting ideas and try out new tools (design thinking, idea validation, prototyping and more)?
Then apply for the hackathon "Create Space: Co-Design Your MQ"! >> REGISTRATION <<
Program:
September 19 | Getting in the mood: screening of the documentary "The New Bauhaus" (2019) followed by a panel discussion with Ashley Lukasik (co-producer, The New Bauhaus).
September 20 | The idea: Deep dive into the challenges of the hackathon and developing ideas as part of an ideation workshop
September 21 | The implementation: prototyping the ideas and trying them out at MQ, creating the final videos
September 22 | The award: The idea chosen by the public and the jury will be awarded during the Vienna Design Week.

The initiators:
The hackathon "Create space: Co-Design your MQ." takes place as part of and with the support of the New European Bauhaus Hackathon Week of the EIT Climate KIC and the EIT Community: New European Bauhaus. The hackathon is carried out by Impact Hub Vienna and the MuseumsQuartier Wien in cooperation with the Vienna Design Week and the Academy of Fine Arts Vienna.

About the New European Bauhaus:
The "New European Bauhaus" is an initiative of the President of the European Commission Ursula von der Leyen, who wants to anchor the European Green Deal and climate protection in our built environment and promote and support attractive, sustainable and inclusive living spaces.
Back to main navigation