Aloha - currently closed!
Snacks, light refreshments and hot punch in winter – with its beach-bar design, Aloha offers the pure feeling of summer alongside fun sports activities. Outdoors only. Closed in bad weather.

That beach-bar feeling in the heart of Vienna – the Aloha Bar is a meeting point for MQ visitors. Situated in Courtyard 8 next to the boules court, it offers light snacks and refreshments in summer. Aloha also serves as the hire point for the boules balls. Outdoors only. Closed in bad weather. In winter, the stand moves to the MQ Main Courtyard and rounds off the range of hot punch on offer at "Winter im MQ."

contact: +43 676 310 75 69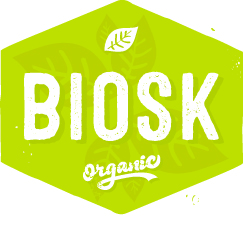 BIOSK - Take-Away Tue-Sun 13-19:00!
BIOSK is a snack bar serving refreshing drinks, light snacks and ice creams in summer, and hot drinks, goulash, sausages with gravy, and soups during "Winter im MQ." Outdoors only. Closed in bad weather.

Located in MQ Courtyard 2/Fürstenhof, BIOSK operates in particular as a snack bar for visitors to the children's institutions, but is open to all other MQ visitors who might enjoy a coffee or a light snack. Its summer menu includes themed refreshing drinks, ice cream, coffee, small snacks (sausages, sandwiches), and freshly baked pastries. During "Winter im MQ," it serves hot drinks (punch, children's punch, Glühwein, and more) and goulash, sausages with gravy, and hot soups. BIOSK's spectacular design, with a roof that bursts into every conceivable color as darkness falls, is the work of Kristof Jarder. Outdoors only. Closed in bad weather.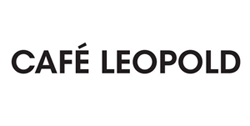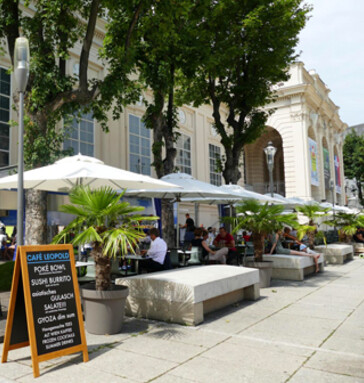 Café Leopold - currently closed!
What makes Café Leopold special is an exciting mix of Asian and international cuisine rounded off with Austrian classics. In summer, its outdoor seating area entices you to while away the hours in the MQ Main Courtyard.

Café Leopold offers ambitious Asian fusion cuisine alongside Viennese favorites and produce from regional suppliers. From sushi, poke bowls, and bulgogi to Wiener Schnitzel and hot chocolate muffins, there's something here for every taste. The café aims to be as attractive to museum visitors from all over the world as it is to guests from Vienna. Café Leopold is run by the restaurateur group around Tie Yang, which has specialized in south Asian and Chinese specialties for more than 15 years, operating various restaurants in Vienna that offer culinary diversity and epicurean surprises.

The restaurant's visual concept was created by the international artist Jun Yang in cooperation with local architecture studios. Klaus Schwarzenegger was brought in to head the design team for Café Leopold as head planner. Despite a complete renovation of the venue in 2017, the café's original character has been preserved. Individual elements, such as the light fittings designed in the basic geometric forms of circle, square and rectangle, the glazing in the bar, the bright counter, and the booth at the back of the venue, have now been redesigned with "Viennese chinoiserie." The furniture is in elegant gray, with tables and Vitra designer armchairs.

In summer, outdoor seating also entices you to while away the hours in the MQ Main Courtyard next to the basin.
cafe-restaurant CORBACI - currently closed!
Café Restaurant Corbaci places a special emphasis on regional produce and is ideal for a quick lunch, a long dinner, or coffee and cake in the afternoon. The food varies seasonally and the menus of the week and lunch menu offer constant variety. The main focus is on Austrian cuisine – regional, seasonal, and light. Tables in the courtyard mean you can enjoy the summer sunshine in perfect calm.

French architects Anne Lacaton and Jean Philippe Vassal are responsible for the outstanding design.
The patterned floor tiles evoke a Turkish café. They were designed especially for the space by the architects in partnership with the Vienna-based Turkish artist Asiye Kolbai-Kafalier and were hand-crafted in Istanbul. A raw, unplastered concrete-block wall separates the kitchen area from the dining room. But the wall's position makes it invisible from outside, with the vault seeming to span the whole space uninterrupted. With its expansive windows, the dining area is a light-flooded room with a direct connection to the MQ's exterior spaces. In a spirit of timeless elegance, the furnishings are kept simple, with mass-produced tables and chairs.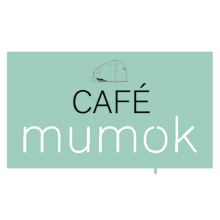 Since reopening in May 2018, the café at mumok has a new fresh and timeless look, inviting you to relax and take a break before or after your museum visit. We offer Illy coffee, a selection of teas and refreshing drinks, and typical Viennese confectionery. There is also a selection of snacks, including various bagels and seasonal soups.

Access to the cafe is barrier-free.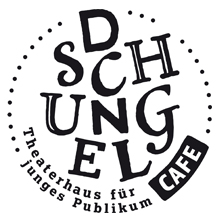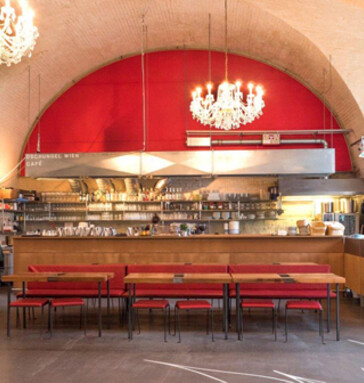 Dschungel Café - currently closed!
DSCHUNGEL CAFÉ is a meeting place for young and old, for creatives and MQ visitors, a space for the whole family to enjoy with a mix of modern interpretations of regional and international cuisine.

Housed in the spacious, inviting foyer of the DSCHUNGEL WIEN theater, DSCHUNGEL CAFÉ is a place for the whole family, for gourmets, and for theater-lovers alike. Breakfast, lunch platters for every day of the week, small dishes to keep you going, Dshungel burgers, crèpes, home-made cakes, or, in summer, organic ice cream – all the food is made fresh every day with selected produce from all over Austria, always with well-balanced options for children. The café serves a varied, natural, and healthy mix of modern interpretations of regional and international cuisine. The drinks menu offers juices, soft drinks, international beers, cocktails, selected wines, specialty teas, and Hawelka coffee. The specially designed children's corner ensures even the smallest visitors don't get bored while their parents enjoy their meal.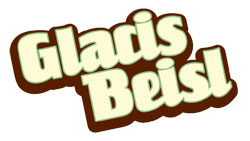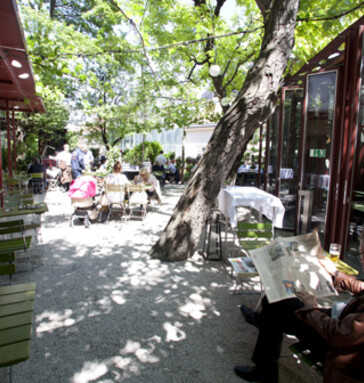 Glacis Beisl - currently closed!
Under the motto "Viennese with a twist," the legendary Glacis Beisl offers culinary tradition with a mix of classics of Viennese and old Austrian cuisine.

Located at the exit from the MuseumsQuartier onto Breite Gasse and Spittelberg, Glacis Beisl offers the perfect symbiosis of the modern and the traditional both on the plate and in the setting. On the menu you'll find classics of Viennese and old Austrian cuisine such as Schnitzel and goulash alongside lardo from Turopolje pork on violet potatoes. The Glacis Beisl building was designed by Arkan Zeytinoglu, combining the look of a traditional Viennese Beisl (pub) with modern elements. The overall impression is created by dark wood combined with absinthe-green Resopal tabletops and a poured terrazzo floor, integrating the tradition of an authentic Beisl into the urban environment. The garden with its secluded bower under tall nut trees is a highlight in summer.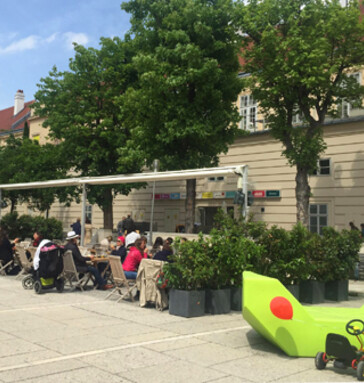 Breakfast, lunch, snack or after-work drink: there's something for everyone at kantine in the MuseumsQuartier – for museum visitors, tourists, or friends looking to hang out.

Between the Walther König bookshop and Electric Avenue, this is a meeting place for a diverse public. On the menu: breakfast, vegetarian and non-vegetarian dishes of the day, an international selection of hot meals, and soups and salads with produce from organic farms. In the evening there are cocktails and a bar atmosphere with music. Coffee and all dishes are also available as takeout.

In summer, you can relax at one of the many tables in the MQ Main Courtyard and take in the bustling activity of the MuseumsQuartier.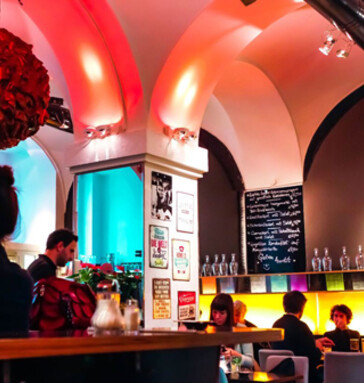 MQdaily - Take-Away Tue-Sun 12-19:00!
Breakfast, a quick coffee, lunch break, meetings in a relaxed atmosphere – there's always a good excuse for going to MQdaily!

MQDaily offers a varied menu: breakfast, good value set lunches, delicious salads and specialties, vegetarian dishes, international starters, snacks, and homemade cakes. Something for everyone! Great attention is paid to the origins of the produce. For example, the aromatic Italian coffee comes from a small roastery in Milan, the craft beers from a private brewery in the Waldviertel, and most of the wines and fresh produce from Austrian growers. All dishes are also available as takeout.

In summer, the large garden in the MQ Main Courtyard, just next to the main entrance, is the perfect place to relax and top up on sunshine.
Back to main navigation