01.04.2022 to 05.04.2022 - Halle E+G

Wiener Festwochen: Romeo Castellucci, Wolfgang Amadeus Mozart, Raphaël Pichon, Pygmalion. Requiem.
DANCE/PERFORMANCE/MUSIC
---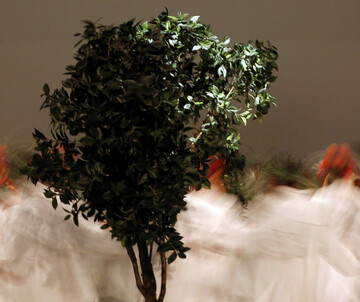 ---
All dates
• Days with event
03 sun
---
06 wed
07 thu
08 fri
09 sat
---
10 sun
---
11 mo
12 tue
13 wed
14 thu
15 fri
---
16 sat
17 sun
18 mo
---
19 tue
20 wed
---
21 thu
22 fri
23 sat
24 sun
25 mo
---
26 tue
27 wed
---
28 thu
29 fri
30 sat
---
The prologue to this year's Wiener Festwochen is an ode to life. And this time star director Romeo Castellucci, a Festwochen regular, has chosen to focus on Wolfgang Amadeus Mozart's last, uncompleted work. His stage production of the Requiem is undeniably a masterpiece. Together with conductor Raphaël Pichon and the outstanding Pygmalion Ensemble comprised of orchestra and choir, he has succeeded in producing a momentous rapture of creation and decay. Circle dances, battles of paint, materials and images oscillate between celebrations of the forthcoming and solemn ceremonial farewells.
This aesthetically opulent stage version of the famous funeral mass showcases the choir as a main protagonist. Thus the evening does not focus on one particular individual; rather, it chooses to peruse the 'Atlas of Great Extinctions'. While extinction draws chronologically ever nearer to us present-day human beings via dinosaurs and Neanderthals, an overwhelming ensemble of singers and dancers seeks to steer an opposite course with verve and vibrancy. With Castellucci, the Christian hope of redemption in the afterlife becomes the necessary new beginning for the next generation.
Back to main navigation