22.12.2021 to 22.12.2021 - MQ Main Courtyard

The Big Dream Project
FREE ENTRY, ART, CHILDREN & FAMILY, LEISURE & OUTDOOR
---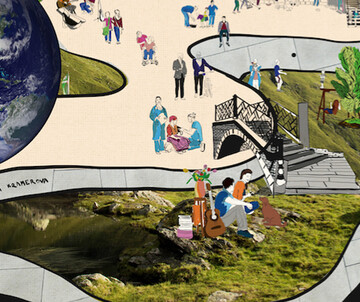 ---
All dates
• Days with event
01 wed
02 thu
03 fri
04 sat
05 sun
---
06 mo
07 tue
08 wed
09 thu
---
10 fri
---
11 sat
12 sun
13 mo
14 tue
15 wed
---
16 thu
17 fri
18 sat
---
19 sun
20 mo
---
21 tue
23 thu
24 fri
25 sat
---
26 sun
27 mo
---
28 tue
29 wed
30 thu
---
31 fri
THE BIG DREAM PROJECT IM MUSEUMSQUARTIER WIEN
Wed 22.12., 16-24h, MQ Main Courtyard, free admission
light projections on the Leopold Museum's façade

European premiere of "The Big Dream" project in Vienna: 22 December sees the first of two kick-off events of the global art installation, which envisions a Utopian world in the year 2030. Personal dreams can be shared until 31 December. These will then be projected at various locations around the world on 2 February as a large-scale "Gesamtkunstwerk". A sneak preview will be presented at MuseumsQuartier on 22 December from 16:00 to 24:00 with projections on the Leopold Museum's façade.
The project was launched in Tel Aviv in 2017, when dreams for the future of the Middle East were transformed into a work of art and re-enacted with yoga mats on which people gathered to exercise together. The event was streamed live around the world.
"The Big Dream" aims to collect 100,000 dreams from all over the world by the end of the year. From these, fifty international artists will create a work of art in the form of a mosaic and video installation. 40,000 dreams have been collected to date. Some of the dreams that have already been transformed into works of art will be presented at the two kick-off events in the MuseumsQuartier in Vienna and on 2 December at the ZAZ 10 Gallery in New York. Dreams can be uploaded until 31 December at big.drea.me under the hashtag #taketwoplanet.
The goal of the project is to bring people together from across the world, to spread optimism, and to remind us to be more caring and loving toward our planet, our fellow human beings, and ourselves. Iman, from Afghanistan, shared his experience seeing his dream turned into art: "I will take it with me wherever I go as a reminder to fight for my dreams". Dov Landau, a 96 year old survivor from Auschwitz shares that his dream is that "people will be more compassionate to each other, much more than in the past".
On 2 February the artwork will be projected at locations around the world. Locations include the ZAZ10TS Gallery in Times Square in New York City, the Old Royal Naval College in London, Shibuya Junction in Tokyo, Fed Square in Melbourne, and many more. The final location will be aboard a flight to the International Space Station as part of the 'Sky' mission with Eytan Stibbe.
Image: © Dominka Kramerova - Dimple's dream for the world
Back to main navigation