22.09.2022 to 26.02.2023 - mumok

The Animal Within. Creatures in (and outside) the mumok Collection
ART
---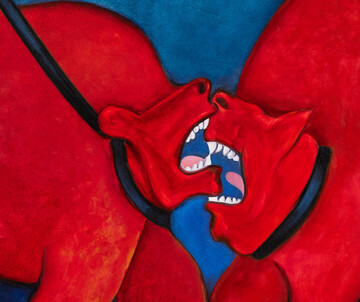 ---
All dates
• Days with event
You have selected the following event:
01 thu
02 fri
03 sat
04 sun
05 mo
---
06 tue
07 wed
08 thu
09 fri
---
10 sat
---
11 sun
12 mo
13 tue
14 wed
15 thu
---
16 fri
17 sat
18 sun
---
19 mo
20 tue
---
21 wed
---
---
---
The mumok collection contains nearly five hundred works related to animals - a considerable quantity that raises the question of what kind of zoo the museum in fact is. What is kept, researched, and displayed both here and there to protect "wild life" and the "freedom of art"? And in whose interest?
The Animal Within addresses such questions and uses the popular appeal of animals to reflect on the nature of sex, hunger, and affection, as well as on family and gender relations, socialization and domestication, and, not least, on the enduring impact of colonial history. Who leads whom on a leash? Who clips whose wings? Who scratches whose back?
The exhibition is thus less about animals than about bodies, moving or still, reclining or standing, crouching or crawling. The animal as a motif serves as a starting point to get to a materialist understanding of art and life. For in the Western world, "taming and framing" is what we do to mark our territories and claim our subjectivities.
opening hours
| | |
| --- | --- |
| mo: | closed |
| tue-sun: | 10:00 – 18:00 |
---
contact
Christmas & New Year's opening hours :
24.12.: 10–14h
25.& 26.12.: 10–18h
31.12.: 10–16h
01.01.2023: 12–18h
02.01.2023: 10–18h
Museumsplatz 1, A-1070 Wien
Tel.: +43-1-525 00-0
info@mumok.at
www.mumok.at
---
Back to main navigation