09.09.2023 to 09.09.2023 - MQ Main Courtyard

tEChnOkitchen: Performance, Food & Wine Court, Music
FREE ENTRY, DANCE/PERFORMANCE/MUSIC, LEISURE & OUTDOOR
---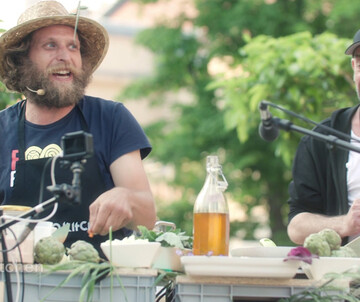 tEChnOkitchen
Performance, Food & Wine Court, DJs, Live-Musik, Live-Stream
Sa 09.09., 14 – 21h, MQ Summer Stage, MQ Main Courtyard
free admission

with:
Kollektiv Ost-West, Danny Murano, Inessa & VAL EBM on the desks
Cucina Alchimia, Cooking-art-performance "Crypto Chef"
Benschis Gartenküche (with products by Robert Paget and Dirndln am Feld)
Weingut Jurtschitsch (Langenlois) & Weingut Hirsch (Kammern)
Thomas Koller, crab fisher
Inessa, Tomas Zierhofer-Kin, host
Eddie Caruso
live Stream: www.youtube.com/@TechnoKitchenworldwide
Welcome to tECnOkitchen, the community challenge for future companions! Visionary chefs, farmers, producers, wine makers, fermenters, wild plant and taste experts ally with adventurous artists and electronic musicians in the spirit of tomorrows ecology, human and non-human solidarity. We roam the forests and meadows to experience the amazing taste of plants, roots and mushrooms, we dig into permaculture and alternative forms of farming, we cook, eat, dance and drink, we turn the tables on to experience how our future might taste, smell, look and sound.
Our recipes, sounds and images are made to inspire you to create your own vision of tomorrow. Join the tECnOkitchen Community!
Back to main navigation