11.09.2023 to 16.09.2023

MQ Vienna Fashion Week.23
FASHION & DESIGN
---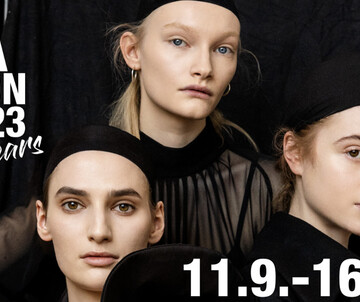 MQ VIENNA FASHION WEEK.23
15 years of MQ VIENNA FASHION WEEK




11.-16.09., MQ Forecourt, fashion tent

For the 15th time Vienna shows its most attractive side
From September 11 to 16, 2023, the renowned MQ VIENNA FASHION WEEK will take place in the new fashion tent in front of the MuseumsQuartier.
Designers, fashion fans, creatives, scene bloggers and everyone for whom fashion is the most beautiful triviality in the world should mark this date in their calendars: from September 11 to 16, the MuseumsQuartier (MQ) will once again become an international stage for fashion, trends and lifestyle. This year, too, the fashion event offers plenty of highlights.
Look, store, inspire
In keeping with the motto see and be seen, around 40 designers will present their collections on the catwalk. The MQ VIENNA FASHION WEEK is also a shopping heaven: visitors can examine, try on, and buy the designers' latest collections in the shopping area and in the pop-up stores – and be inspired by the highlights of the fashion season.
Fashion week of superlatives
Renowned Austrian and international designers as well as newcomers to the domestic fashion scene will be represented, presenting their innovative designs and labels in the fashion tent. The event thus offers visitors the unique opportunity to experience the future shooting stars up close.
further information: www.mqvfw.com
tickets: www.mqvfw.com/tickets/
SHOW SCHEDULE

Mon 11.09.
20h MQVFW.23 OPENING SHOW
Tue 12.09.
18h MARS und LINDA SEKOLL presented by Wirtschaftsagentur Wien
19h THANG DE HOO
20h Mission Austria presents LYVEM and VERDANDY
21h AVANI COLLECTION
Wed 13.09.
18h IMAATU
19h SABINE KARNER
20h MERO presented by Aurum 999,9 Mag Book
21h MARCEL OSTERTAG
Thu 14.09.
18h MEIJERHOF / JANA GAVALCOVA
19h CALLISTI
20h CONSCHES
21h THAI FASHION NIGHT: "TAKE OFF" presented by DITP, KRAM PHON, PAUL DIREK, SIMONSSISTER, SIRINTRA, WONDER ANATOMIE
Fri 15.09.
17h MODESCHULE MICHELBEUERN*
18h NICOLAS DUDEK / MAGDALENA LEITNER
19h KAYIKO - VIENNESE AVANTGARDE
20h MANUEL ESSL DESIGN
21h ROEE / MIJU CLOTHING
Sat 16.09.
13h KunstModeDesign HERBSTSTRASSE*
15h ADINDA
16h MARINÀ
17h SITAM
18h ELKE FREYTAG / SLANGSLANG
19h ARTPOINT
20h UNTITLED / CHIC BY VALI CIOBAN
21h MQ FASHION NIGHT*: PITOUR / RIVA BY FRANK / WEENEGGSINN
22h: TRUEYOU
* free admission according to availability
Photo ©
photographer: Mato Johannik / styling: Franziska Sumberaz / hair & make up: Nico / models: Iva, Kaya, Valentina @ Wiener Models / fashion: Callisti, Thang de Hoo
Back to main navigation