29.09.2022 to 29.09.2022 - MQ Main Courtyard

MQ Hofmusik: Aze
FREE ENTRY, DANCE/PERFORMANCE/MUSIC, LEISURE & OUTDOOR
---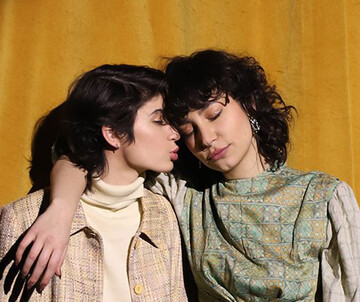 ---
All dates
• Days with event
You have selected the following event:
01 thu
02 fri
03 sat
04 sun
05 mo
---
06 tue
07 wed
08 thu
09 fri
---
10 sat
---
11 sun
12 mo
13 tue
14 wed
15 thu
---
16 fri
17 sat
18 sun
---
19 mo
20 tue
---
21 wed
22 thu
23 fri
24 sat
25 sun
---
26 mo
27 tue
---
28 wed
30 fri
---
MQ Hofmusik: Aze
Thu 29.09., 19h


MQ Main Courtyard, free admission
Apart from each other they are Beyza and Ezgi, together they form Aze. Since 2020, the duo provides us a nonchalant insight into their deepest inner selves with their sound mix between sad & sexy and the charming, yet playful lyrics. Aze combine all facets of RnB, Indie and Pop with sparks of oriental music; in it they find and offer space to feel, to express and to process -for themselves, but also for their audience. Their single "Call Me Back", which was released at the end of 2020 without a label or big promo, landed directly in the top 5 of Austria's influential radioFM4 charts and already counts one million Spotify streams. With their debut album "Hotline Aze" they manage to not only pay tribute to the classic RnB trinity of concept, skit parts and fades, but also give homage to the intimate truthfulness of their friendship. After all, the album is written in the same style in which Aze, best friends since the age of three, communicate with each other and their surroundings after closing the door to the studio.
Photo © Amelie Strobl
Back to main navigation