10.09.2021 to 12.09.2021

Libellen-Wochenende: Secret MQ Tour
FREE ENTRY, EDUCATION, LEISURE & OUTDOOR
---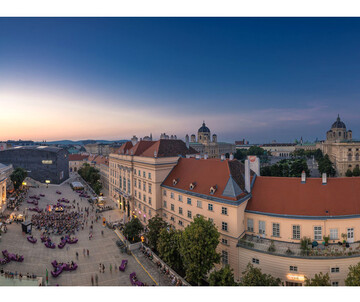 LIBELLEN-WOCHENENDE: SECRET MQ TOUR
Fri 10., Sat 11. & Sun 12.09., 14:00h
registration requested until Wed 08.09. via tour@mqw.at
Tours meeting point: in front of MQ Point at the main entrance
The current access regulations apply.
Discover the MuseumsQuartier Wien while learning about the history of one of the largest cultural districts in the world.

Almost 300 years span the start of construction work on the imperial stable complex in the early eighteenth century, its use later on as a venue for trade fairs and exhibitions, and the opening of the MuseumsQuartier Wien in 2001. The "MQ General Tour" gives an insight into the creation of what is one of the largest cultural districts in the world right in the heart of Vienna. Creating and experiencing art, leisure and relaxation come together at the MuseumsQuartier into a unique whole. Modern architecture combined with imperial splendor, major art museums alongside small cultural initiatives, leisure activities or simply relaxation – this overview tour of the MQ offers an exciting glimpse into one of the largest evolving cultural districts in the world, as well as a guide to the range of culture on offer here.
Foto © Alexander Eugen Koller
Back to main navigation