20.05.2022 to 25.09.2022 - mumok

Jesse Stecklow: Terminal
ART
---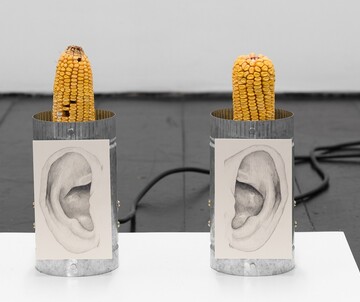 ---
All dates
• Days with event
You have selected the following event:
01 sun
02 mo
03 tue
04 wed
05 thu
---
06 fri
07 sat
08 sun
09 mo
---
10 tue
---
11 wed
12 thu
13 fri
14 sat
15 sun
---
16 mo
17 tue
18 wed
---
19 thu
---
---
---
---
---
---
---
---
---
---
---
26 mo
27 tue
---
28 wed
29 thu
30 fri
---
The collection, analysis, and circulation of ecological data, often invisible to the human eye, is at the core of Jesse Stecklow's artistic practice. The Los Angeles-based artist (b. 1993) works with a precisely defined repertoire of objects that oscillate between image, text and sound. His sculptures enter into a dialogue with their surrounding environment, effectively confusing the boundaries of the work. Stecklow is less concerned with the singular object itself. Rather, he is interested in the various narratives that are created through location-related shifts in context. Stecklow refers to his objects as characters. They take on different roles depending on the situation in which they find themselves, thus assuming multiple identities in divergent forms.
In his first European museum exhibition, titled Terminal, Stecklow will transform the exhibition space into a waiting room. He will present various versions of his sculptures in repetition across displays he designed as a hybrid between luggage carousels and dining tables. These forms can be traced back to the shifts that have taken place between public and private spaces over the course of the pandemic: While the once so heavily frequented airport terminals emptied, our hitherto lonely dining tables have filled up, becoming offices and school desks.
Back to main navigation