09.12.2021 to 16.01.2022 - MQ Main Courtyard

Impulse
FREE ENTRY, ART, CHILDREN & FAMILY, LEISURE & OUTDOOR
---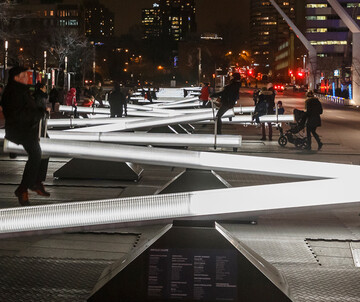 ---
All dates
• Days with event
01 wed
02 thu
03 fri
04 sat
05 sun
---
06 mo
07 tue
08 wed
---
---
---
---
---
24 fri
25 sat
---
---
---
01 sat
---
---
---
---
17 mo
18 tue
---
19 wed
20 thu
---
21 fri
22 sat
23 sun
24 mo
25 tue
---
26 wed
27 thu
---
28 fri
29 sat
30 sun
---
31 mo
Impulse
Dear visitors,
the 2G+ rule (fully vaccinated or recovered and additionally PCR-tested) applies to the use of ALL MQ winterGARTEN attractions.
thru 16.01.2022, MQ Main Courtyard
Mon - Fri, 16–22h
Sat, Sun & holidays 14–22h
closed on 24.12., 25.12. & 01.01.
As part of the MQ Wintergarten, "Impulse" will provide a special kind of light and sound in the main courtyard. "Impulse", created by Lateral Office & CS Design and presented in collaboration with Creos, uses the idea of ​​repetitive units to create a constantly changing event through repetition and variation. The installation consists of a series of interactive, illuminated seesaws that react and transform when they are set in motion by people: when the seesaws are in the idle state, they remain on a horizontal plane with a low level of illumination. As soon as the seesaws are activated and tilted by the user, the light intensity increases, supplemented by the playing of a random sequence of tones, whereby the users themselves become musicians and artists.
"Impulse" - Production: Partenariat du Quartier des spectacles, Montréal, Canada; Creation and execution: Lateral Office and CS Design; Collaborators: EGP Group, Mitchel Akiyama, Générique Design, Robocut Studio.
Photo: © Ulysse Lemerise
Back to main navigation