09.06.2022 to 09.10.2022 - MQ Libelle, MQ Main Courtyard, MQ Vorplatz

Flying Eyes by Eva Schlegel + 2MVD
DIGITAL, FREE ENTRY, ART, LEISURE & OUTDOOR
---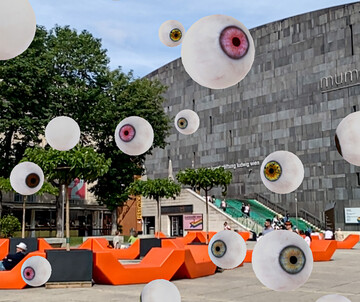 ---
All dates
• Days with event
You have selected the following event:
01 wed
02 thu
03 fri
04 sat
05 sun
---
06 mo
07 tue
08 wed
---
---
---
---
---
---
---
---
---
---
10 mo
---
11 tue
12 wed
13 thu
14 fri
15 sat
---
16 sun
17 mo
18 tue
---
19 wed
20 thu
---
21 fri
22 sat
23 sun
24 mo
25 tue
---
26 wed
27 thu
---
28 fri
29 sat
30 sun
---
31 mo
Flying Eyes
by Eva Schlegel + 2MVD
With the augmented reality project "Flying Eyes" art can be experienced virtually in the public space of the MuseumsQuartier. From June 9th to October, a total of 7 works by the renowned Austrian artist Eva Schlegel can be discovered in the MQ courtyards, on the forecourt and on the MQ Libelle.
"Flying Eyes" opens a view into another dimension that is not tangible. Familiar patterns of perception are overridden and the examination of the relationship between perception and space, the material and the immaterial, the object and the human being is expanded by including a virtual medium.
The digital works can be experienced using a smartphone and the free "wikar" app by scanning the QR codes. When moving the smartphone, the sculptures appear, some of which are accessible: "Ice White", for example, is a floating and rotating ball of ice, from the inside you experience the surroundings as if through a filter. "Nebula", on the other hand, is a floating cosmos consisting of a dark orbital cloud in which luminous stars are moving. The flying texts, "Read Me", which emerge from a mass of white clouds into legible typefaces that traverse space, address flying itself. With "Flying Eyes" you are suddenly surrounded by numerous eyes watching you.
"Flying Eyes" takes the viewer into a world of fantasy. They themselves become an active part of what is happening and determine how long the works of art exist as temporary forms of experience. At the same time, there is the opportunity to be creative and take photos of yourself and the virtual environment.

WORKS
Read me (2021), Flying Eyes (2021), Ice White (2021), Nebula (2021), Fire Ball (2021), Blades (2021), Black Holes Landing (2021)

EVA SCHLEGEL
Eva Schlegel was born in Hall, Tyrol, in 1960 and lives and works in Vienna. Her work has been presented in numerous solo and group exhibitions worldwide, she represented Austria at the Venice Biennale in 1995 and was responsible for the Austrian contribution as Commissioner in 2011. From 1997 to 2006 she taught as a university professor at the Academy of Fine Arts Vienna. www.evaschlegel.com

2MVD
For the augmented reality project, Eva Schlegel is collaborating with architects Valerie Messini and Damjan Minovski from 2MVD. They combine architecture with innovations and advances in digital art and technology. Their focus lies on exploring the possibilities of interactive spaces through immersive media. These make it possible to overcome physical laws that are limited by the built architecture. www.2mvd.at

CURATORS
Juergen Weishäupl and Gerald Matt
Jürgen Weishäupl is a curator and producer of interdisciplinary art- and cultural events. After studying theater studies in Vienna and scenography in Zurich, he headed the cultural association MONDOTONDO in Palermo and designed exhibitions, streaming, festivals and art in public space.
Gerald Matt is an Austrian curator, author, cultural manager and director of the Vienna Art Institute. He is a visiting professor at the University of Applied Arts Vienna and was a lecturer at the CIAM (Center of International Art Management) in Cologne, where he taught museum and exhibition administration. He also taught art theory at the Institute for Art History at the University of Innsbruck.

APP
The custom augmented reality app was developed in collaboration with the Advanced Visualization Lab of the National Center for Supercomputing Applications at the University of Illinois at Urbana-Champaign, the Cyprus Institute, the DARIAH DIGISH Working Group and BEAMY.space.
Back to main navigation