09.03.2023 to 16.08.2023 - Architekturzentrum Wien

Exhibition: Yasmeen Lari - Architecture for the Future
ARCHITEKTUR
---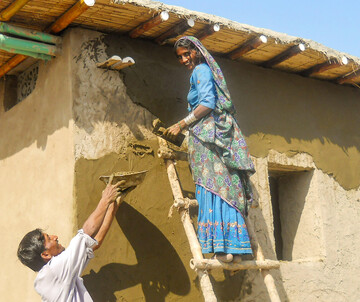 Yasmeen Lari is Pakistan's first woman architect. She designed iconic modernist buildings before initiating a zero-carbon self-build movement for climate refugees and the landless. This exhibition uses Lari's oeuvre as an example to show how the relationship of architecture to the future has changed.
The impact of the Man-made climate catastrophe around the world is dramatic. Pakistan, one of the most climate-vulnerable countries in the world, is disproportionately hard-hit. In the summer of 2022, when one-third of the country was flooded, the over eighty-year-old architect Lari worked tirelessly to provide architectural disaster relief. For Lari, architecture has to balance individual survival and dignity with the protection of the planet as a whole. "It is about finding out which method is the most cost-effective, safest, and most ecological, and then implementing it en masse," says Lari.
Over the past two decades, she has developed and implemented her system of zero-carbon architecture based on local economies, on innovating traditional building techniques, using the climate-neutral materials of bamboo, lime, and mud, as well as providing training in self-building and women-centered ways of working. Together with climate refugees and the landless, Lari has built tens of thousands of flood- and earthquake-resistant houses, sanitation infrastructure, smokeless stoves, and community facilities.
This is the first monographic exhibition on Yasmeen Lari ever. Previously unpublished photographs, drawings, and documents from the architect's own archives show her impressive journey from international modernism to zero-carbon architecture. Having completed her education in England, Lari opened her architectural practice in Karachi in 1964, going on to become Pakistan's woman star architect. As a pioneer of Brutalism, she built houses for the new lifestyle of the urban middle class in an independent Pakistan. She created urban landmark buildings, as well as social housing. Together with her husband Suhail Zaheer Lari, she founded the Heritage Foundation of Pakistan, dedicated to the research and conservation of the architectural heritage of their country—both the World Heritage Sites in Makli and Lahore, as well as everyday buildings.
Modern architecture was based on the claim to build a better future—today we are living with the consequences: extreme weather events, fossil fuel dependence, and destruction on a planetary scale. Architecture is challenged to become co-responsible and not to give up working towards ecological justice. Yasmeen Lari's credo for an architecture for the future: "We must tread lightly on the planet."
Curators: Angelika Fitz, Elke Krasny, and Marvi Mazhar
Scenography: Alexandra Maringer
Graphic design: Alexander Ach Schuh
Project coordination: Agnes Wyskitensky
The exhibition is accompanied by the book "Yasmeen Lari: Architecture for the Future", published by the MIT Press. With contributions by Angelika Fitz, Elke Krasny, Marvi Mazhar, Chris Moffat, Helen Thomas, Anila Naeem, Abira Ashfaq, Raquel Rolnik, Anne Karpf, Runa Khan, Cassandra Cozza, and Rafia Zakaria.
Opening: Wed 08.03., 19h
Back to main navigation