20.04.2023 to 28.01.2024 - Kunsthalle Wien

Exhibition: No Feeling Is Final. The Skopje Solidarity Collection
ART
---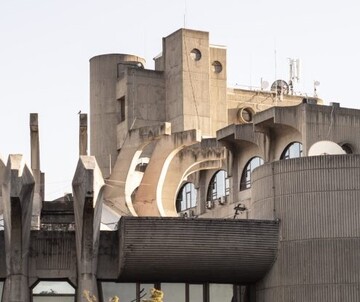 ---
All dates
• Days with event
You have selected the following event:
01 sat
02 sun
03 mo
04 tue
05 wed
---
06 thu
07 fri
08 sat
09 sun
---
10 mo
---
11 tue
12 wed
13 thu
14 fri
15 sat
---
16 sun
17 mo
18 tue
---
19 wed
---
---
---
---
The comprehensive, international group exhibition "No Feeling Is Final. The Skopje Solidarity Collection" will revolve around the Museum of Contemporary Art's unusual collection of modern works, how it came into being as well as the historical and political context that allowed for such an extraordinary project.
After the massive earthquake that hit Skopje (then Yugoslavia) in 1963, there was a huge effort to help rebuild the devastated city as a large-scale gesture of international solidarity. As part of the rebuilding process, the decision was made to establish a museum of contemporary art. Through the vast network of the United Nations, a call for donations was issued which resulted in thousands of works being sent to Skopje from artists all around the world. The museum building itself was a donation from Poland.
The collection of the MoCA Skopje represents a time capsule of international art at a moment when modernism was still in its prime. It brings together works by major (predominantly male) figures such as Alexander Calder, Georg Baselitz, Christo & Jeanne Claude, Ion Grigorescu, David Hockney, Alex Katz, Sol LeWitt, Meret Oppenheim, Pablo Picasso, Bridget Riley, and Niki de Saint Phalle, as well as much lesser known but often fascinating works by artists from the former East and Global South.
Kunsthalle Wien invited four artists and one duo of artists to work with the collection: Brook Andrew (Melbourne), Yane Calovski & Hristina Ivanoska (Skopje), Siniša Ilić (Belgrade), Iman Issa (Berlin), and Gülsün Karamustafa (Istanbul). What they all have in common is a very particular approach to rereading and reworking histories of art and society. Each of the artists has selected specific works from the collection and developed a display that puts the historical works in dialogue with their own contemporary practices.
Apart from the artistic commissions in relation to the collection, renowned photographer Elfie Semotan (Vienna) was invited to document the cityscape of Skopje and the museum through her unique way of photographic storytelling. Additionally, writer Barbi Marković (Vienna) was commissioned to write a fictional travelog further contextualizing the complex and layered histories of this extraordinary endeavour.
"No Feeling Is Final. The Skopje Solidarity Collection" hopes to unmask some unconscious assumptions about what Western modern art can be, while offering a surprising way of looking at both familiar names and artists unknown to the modern canon.
opening hours
| | |
| --- | --- |
| mo: | closed |
| tue-sat: | 12:00 – 18:00 |
| sun: | closed |
---
Back to main navigation