02.08.2023 to 23.08.2023 - Architekturzentrum Wien

Architektur.Film.Sommer 2023: Re-Learning Architecture
FREE ENTRY, LEISURE & OUTDOOR, FILM & DIGITAL CULTURE, ARCHITEKTUR
---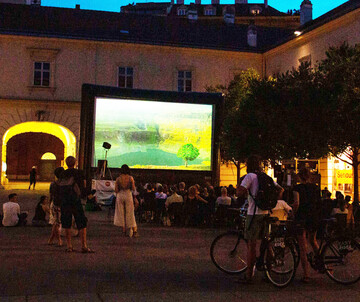 The 11th season of the international open air architecture film festival presents documentaries, short films and experimental films under the heading: Re-Learning Architecture. On unlearning and re-learning architecture.
Criteria based on affordability, circularity and a radical decarbonisation in the building sector will significantly change the shape and practice of architecture in the future. In view of this urgently needed turnaround in the construction industry, is it time to rethink how we learn, teach and practice architecture? To what extent should basic design techniques, such as building with existing structures, be incorporated into the curriculum? What role do the users, architects and planners play in a systemic shift in architecture and urbanism? How do we behave in a sector where project phases stretch over years? Are we building the misjudgements of yesterday, today? Should we still be building at all? The open-air festival invites architecture enthusiasts and film buffs to linger and swap ideas.
In cooperation with wonderland — platform for european architecture.
Curators: Lene Benz, Marlene Rutzendorfer
Back to main navigation