05.12.2022 to 05.12.2022 - Architekturzentrum Wien

Adventwandern 2022: Alles Gut? Ein Umgang
FREE ENTRY, EDUCATION, LEISURE & OUTDOOR, ARCHITEKTUR
---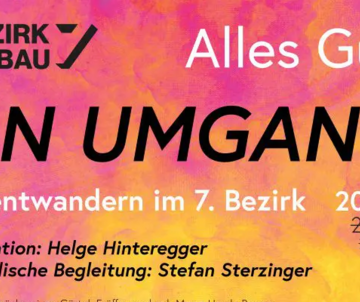 ---
All dates
• Days with event
01 thu
02 fri
03 sat
04 sun
---
06 tue
07 wed
08 thu
09 fri
---
10 sat
---
11 sun
12 mo
13 tue
14 wed
15 thu
---
16 fri
17 sat
18 sun
---
19 mo
20 tue
---
21 wed
22 thu
23 fri
24 sat
25 sun
---
26 mo
27 tue
---
28 wed
29 thu
30 fri
---
31 sat
After a break of two years, Advent in the 7th district starts again this year with a walk of a special kind - on December 5, visitors can expect a lively and diverse cultural program of music, literature, theater, architecture and much more.
The walk starts at the main library at Urban-Loritz-Platz and leads through several stations (e.g. Kosmos Theater, music austria,...)to the Architekturzentrum Wien.
There, the new exhibition collection "Hot Questions - Cold Storage" invites you to get to know the history of Austrian architecture, which is presented on the basis of current explosive topics. Following the exhibition visit, mulled wine and gingerbread await the Advent hikers.
Moderation: Helge Hinteregger
Musical accompaniment: Stefan Sterzinger
Back to main navigation