11.08.2020 to 11.10.2020 - Architekturzentrum Wien, Dschungel Wien, Halle E+G, Kunsthalle Wien, Leopold Museum, mumok, Tanzquartier Wien, ZOOM Kindermuseum, MQ Main Courtyard

This is the sound of Austria
FREE ENTRY, ART, CHILDREN & FAMILY, DANCE/PERFORMANCE/MUSIC, LEISURE & OUTDOOR, FILM & DIGITAL CULTURE
---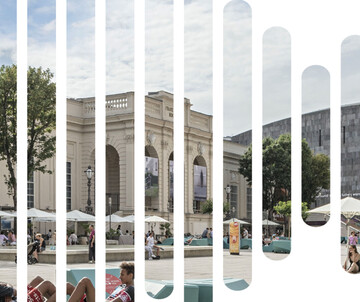 ---
All dates
• Days with event
01 sat
02 sun
03 mo
04 tue
05 wed
---
06 thu
07 fri
08 sat
09 sun
---
10 mo
---
---
---
---
---
---
---
---
---
---
12 mo
13 tue
14 wed
15 thu
---
16 fri
17 sat
18 sun
---
19 mo
20 tue
---
21 wed
22 thu
23 fri
24 sat
25 sun
---
26 mo
27 tue
---
28 wed
29 thu
30 fri
---
31 sat
This is the sound of Austria
Did you know just what a diverse range of sounds Austria has to offer? Dive into a world of enchanting and virtuoso sounds in MuseumsQuartier Wien, and get a few visual surprises, too.

You just need a smartphone, the free app "Artivive" and an internet connection. Open the app and point your phone at any of the posters from the eight participating cultural institutions – Architekturzentrum Wien, Dschungel Wien, Halle E+G, Kunsthalle Wien, Leopold Museum, mumok, Tanzquartier Wien, ZOOM Kindermuseum and the one at the MQ Main Courtyard – and set off on a journey through Austria's world of music.
The musical contributions, compiled by curator Andreas Vierziger, come from the archives of the mdw – University of Music and Performing Arts Vienna, the KUG – University of Music and Performing Arts Graz, Mozarteum University Salzburg, and from Georg Weckwerth, Artistic Director of the TONSPUR Kunstverein. The Augmented Reality Integration has been performed by "Artivive".
"So klingt Österreich" ("This is the sound of Austria"), an initiative of MuseumsQuartier Wien and the Austrian National Tourist Office, transforms public spaces into audio-visual experiences. After the kick-off at MuseumsQuartier Wien, other locations will follow.

Back to main navigation