22.08.2020 to 22.08.2020 - MQ Main Courtyard

frame[o]ut 2020: #ECHTZEITEXPERIMENT
FREE ENTRY, LEISURE & OUTDOOR, FILM & DIGITAL CULTURE
---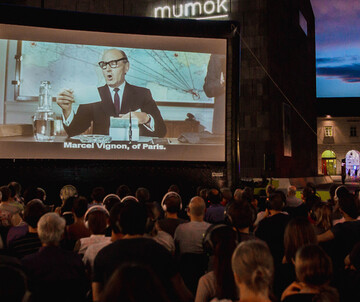 ---
All dates
• Days with event
01 sat
02 sun
03 mo
04 tue
05 wed
---
06 thu
07 fri
08 sat
09 sun
---
10 mo
---
11 tue
12 wed
13 thu
14 fri
15 sat
---
16 sun
17 mo
18 tue
---
19 wed
20 thu
---
21 fri
23 sun
24 mo
25 tue
---
26 wed
27 thu
---
28 fri
29 sat
30 sun
---
31 mo
frame[o]ut: #ECHTZEITEXPERIMENT


MQ Haupthof, Eintritt frei!
(bei Schlechtwetter: Arena21)
Filmvergnügen unter freiem Himmel – Cineasten können sich im Rahmen von frame[o]ut auch heuer wieder auf ein Programm mit neuen und jungen Filmen sowie überraschenden filmischen Formaten freuen, selbstverständlich unter Einhaltung der aktuellen Veranstaltungsbestimmungen*. An 16 Abenden von Juli bis September bespielt die 13. Ausgabe von frame[o]ut bei Einbruch der Dunkelheit den Haupthof und den Hof 8 im MuseumsQuartier Wien.
Samstag, 22.08., 19.30h
#ECHTZEITEXPERIMENT
Ein kollektives und partizipatives Kunstfilmprojekt mit Lesungen, Diskussionen, Musik und Film.
Programmablauf:

B. FLEISCHMANN und der Nachbarschaftschor

LETTER to a FRIEND In 19 Videobotschaften erzählen Frauen und Männer über ihren Alltag während der Ausgangsbeschränkungen. Sie wohnen in Thailand, Japan, den USA, Deutschland, Frankreich, der Schweiz und Österreich.
Was sie verbindet ist ein gemeinsamer Freund in Wien, dem sie ihre Geschichten erzählen. LETTER TO A FRIEND zeigt Einblicke in den kollektiven Ausnahmezustand. Oft witzig, manchmal verzweifelt, nicht selten ratlos.
Dokumentarfilm, Idee: William Edouard Franck, Montage: Angela Christlieb

CHATLEG , eine Leseperformance

EBENE 0 / Wenn die Menschen verstummen, sprechen die Maschinen.
Ein experimenteller Film, bei dem das Publikum über (Funk)Kopfhörer den Sound der Quarantänezeit und der sozialen Isolation erlebt.
Konzept&Bilder: Elisabeth Scharang und William Edouard Franck, Montage:Angela Christlieb, Immersive Soundrecording: William Edouard Franck
22.00h Projektion der CORONA_Rolle als Installation auf das Leopold Museum
Die CORONA_Rolle ist ein Filmkalender montierte aus über 1.500 handyvideos, die Menschen während Mitte März und Mitte Juni in Österreich gedreht haben, für das Echtzeit Experiment hochgeladen haben. Zwischen 22.und 29. August tourt die Corona_Rolle als Installation durch die Stadt.
Am 25. August hat die CORONA_Rolle als Film Premiere im GARTENBAUKINO in Wien
22.bis 29.August 2020 #EchtzeitExperiment in Wien
In der letzten Augustwoche dieses Corona Jahres 2020 wird die Stadt Wien mit Filmprojektionen bespielt, die kollektive und persönliche Erfahrungen dieser außergewöhnlichen Zeit des Lockdowns zeigen.

TEAM Echtzeit Experiment:
Martina Theininger (Filmschaffende, Autorin und Festivalleitung Frameout) / Elisabeth Scharang (Regisseurin, Autorin) / Mirjam Bromundt (Projektionstechnikerin) / Ursula Hofbauer (Architektin, Veranstaltunsarchitektur, Kallaudierungen) / Tina Leisch (Filmarbeiterin) / Ines Kaiser (Assistenz) / Constanze Cauers (Projektentwicklungen und Koordination Rahmenprogramm)
*Sämtliche Vorführungen finden unter den derzeit geltenden Bestimmungen für Veranstaltungen statt. Um größtmögliche Sicherheit für alle BesucherInnen zu gewährleisten, wird daher für alle BesucherInnen ausnahmslos eine Sitzordnung auf einzelnen Plätzen im Schachbrettmuster gelten. Die Anzahl der Sitzplätze ist begrenzt. Gleichzeitig wird mit Aufstellern auf die Einhaltung der Hygienemaßnahmen hingewiesen und an die Eigenverantwortung der BesucherInnen appelliert.
www.frameout.at
Eine Kooperation mit dem MuseumsQuartier Wien
Back to main navigation