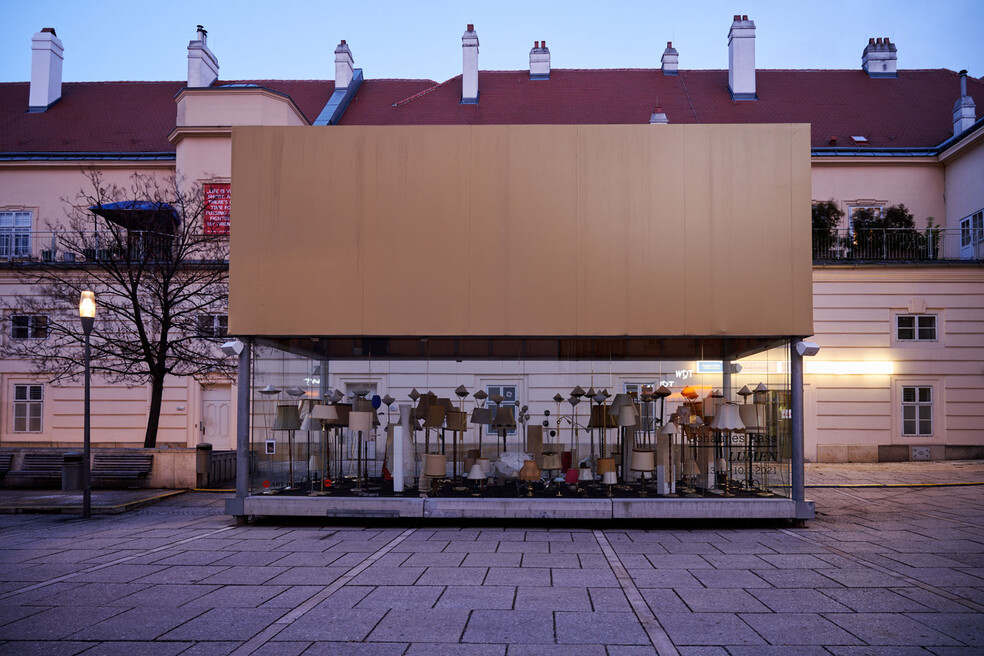 Johannes Rass: LUMEN
© Fabian Gasperl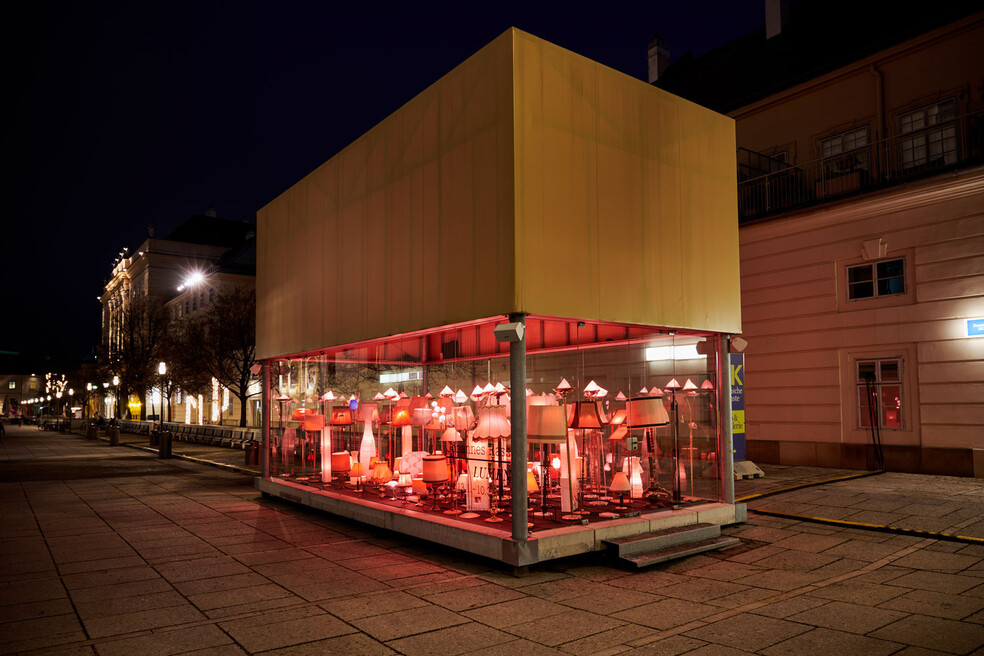 Johannes Rass: LUMEN
© Fabian Gasperl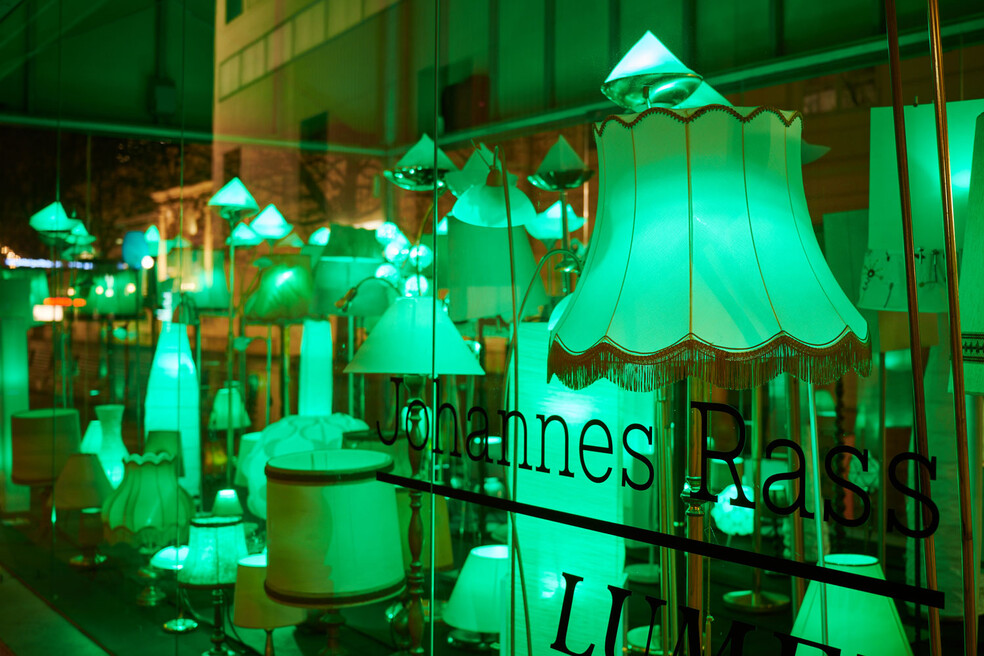 Johannes Rass: LUMEN
© Fabian Gasperl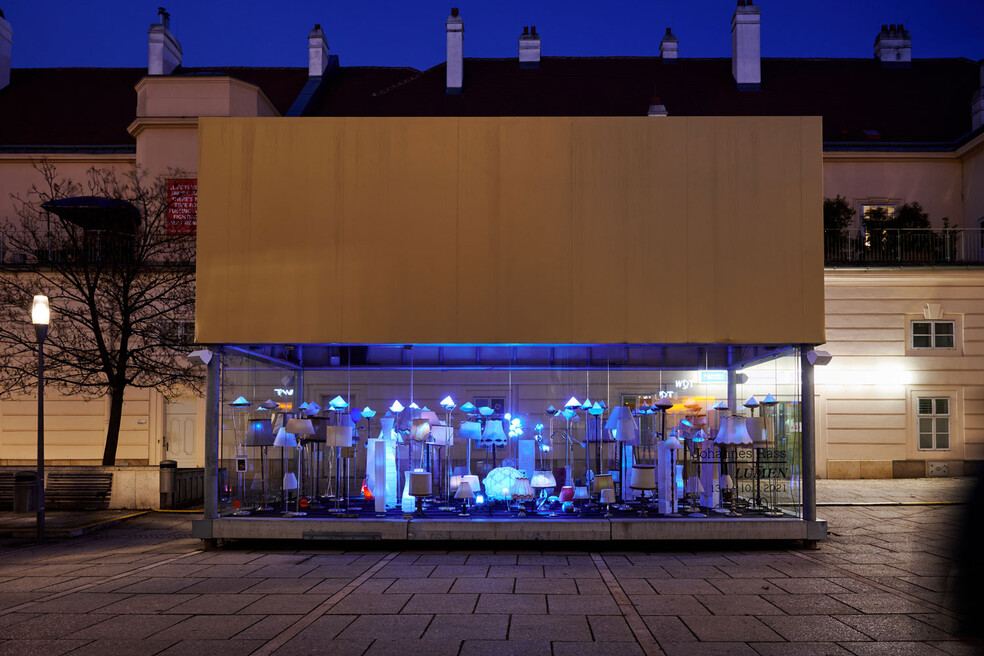 Johannes Rass: LUMEN
© Fabian Gasperl
MQ Art Box
The MQ ART BOX in the Main Courtyard of MuseumsQuartier Wien is freely accessible every day around the clock, exhibiting temporary installations by contemporary artist.
The transparent art space interacts with the pubic space and the various micro museums in the baroque passages. With its focus on new Austrian art, the MQ ART BOX complements the programmes of the museums and cultural institutions at MuseumsQuartier.
Opening hours: Mon thru Sun: 00:00–24:00
SOON SHOWING AT MQ ART BOX: LUMEN
January 13 thru March 10, daily 16:30-20:30h
Mit seiner Installationsserie "LUMEN" schafft der Konzeptkünstler Johannes Rass "belichtete" Räume. Das zentrale Thema sind dabei die Vermischung, Beeinflussbarkeit und Abhängigkeit von Lebensräumen.
Mit einbrechender Dämmerung beginnt ein Schauspiel aus Licht und Ton, die MQ ART BOX wird zur Kulisse aus sich verändernden Geräuschen und Lichtstimmungen während sich für die BetrachterInnen ein Raum für Assoziationen eröffnet. Johannes Rass verwendet hierfür rund 125 alte Stehlampen, die mit modernen LEDs bestückt und mit einer digitalen, dreidimensionalen Licht-Sound-Installation bespielt werden. Die Kombination aus analoger "Stehlampen-Hardware" und digitalen Inhalten und Effekten erzeugt eine besondere Spannung. Den BetrachterInnen bleibt es selbst überlassen, ob sie nur einen kurzen Blick auf den "Lampenwald" werfen, oder ob sie sich ein wenig Zeit nehmen, um in den weit gespannten Rahmen des Projekts einzutauchen.
Für Johannes Rass ist die Idee hinter einem Projekt von außerordentlicher Bedeutung. Sie schafft die Rahmenbedingungen, ist Ausgangspunkt, Triebfeder und Motor zur Umsetzung, aber auch Zielsetzung auf welche konsequent hingearbeitet wird. Das Spiel mit, und das Heraustreten aus Kontexten ist ein wiederkehrender Schwerpunkt in seinen Vorhaben, die sich methodisch zwischen Installation, Performance, Fotographie und anderen Medien bewegen.
Johannes Rass. LUMEN
Project koordination MQ ART BOX: Elisabeth Hajek & Klaus Krobath
Conzept und Projectlead: Johannes Rass
Light, technology: Matthias Timo Finding
Audio Recordings: Félix Blume, Johannes Rass
Audio Mastering: Matthias Ullrich
Art Management: Marschalek Art Management, Paula Marschalek
free admission
www.johannesrass.com
www.marschalek.art/press
Back to main navigation