12.06.2022 to 12.06.2022 - Architekturzentrum Wien, Kunsthalle Wien, Leopold Museum, mumok, Q21, WIENXTRA-Kinderinfo, ZOOM Kindermuseum, MQ Main Courtyard, Hof 2, MQ Amore, Boule Bahn

MQ Sommerfest
FREE ENTRY, EDUCATION, ART, CHILDREN & FAMILY, DANCE/PERFORMANCE/MUSIC, LEISURE & OUTDOOR
---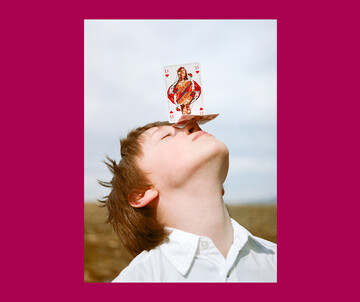 ---
All dates
• Days with event
01 wed
02 thu
03 fri
04 sat
05 sun
---
06 mo
07 tue
08 wed
09 thu
---
10 fri
---
11 sat
13 mo
14 tue
15 wed
---
16 thu
17 fri
18 sat
---
19 sun
20 mo
---
21 tue
22 wed
23 thu
24 fri
25 sat
---
26 sun
27 mo
---
28 tue
29 wed
30 thu
---
MQ Sommerfest
Sun, 12.06., from 12h l MuseumsQuartier
free admission
A day for the whole family! We celebrate the MQ summer season with special tours, performances, workshops, live concerts and many more activities in the participating institutions as well as in the courtyards.

PROGRAM:
10h, Fürstenhof courtyard in front of WIENXTRA-Kinderinfo
Puppet theater for children from 3 to 10 years
The puppet stage "Träumeland" presents a new play on the occasion of the 50th anniversary of the holiday game: It's Holli's birthday, what a joy! Together with his best friend Chill, everything is prepared for the big party: there will be cake, balloons and music. But the cheeky squirrel Fritzi steals everything from under their noses. Help Holli save the birthday!

10.30 thru 12h, ZOOM Kindermuseum, main entrance
Riesenseifenblasenspaß - soap bubbles fun!
Whether it's one tiny, many or just one huge one, we want to let dazzlingly colorful soap bubbles fly through the Fürstenhof together with you! You can experiment with soap bubbles in front of the ZOOM main entrance. Do they hover for just a second, do they burst on the tip of your nose, or do they fly over the rooftops and out into the city as light as a feather? Soapy water and everything else we need for this fun is ready!

11 thru 15h, MQ forecourt
Kunstzelle at MQ: Collective picnic
Let's have a picnic together! Join us and bring your family and friends along.

12h, meeting point: MQ Point at the MQ main entrance
Q21 Backstage Tour (in German)
Registration requested: sommerfest@mqw.at
Anyone who has always wanted to learn more about the work of cultural workers or is interested in taking a glimpse into an artist-in-residence studio can take this backstage tour to get to know the creative space of the MuseumsQuartier, the Q21.

from 13h, MQ main courtyard
Outdoor Race Challenge
Motosport fans can whiz around with miniature cars at this auto racing track by Martin Markeli.

13.30h thru 16.30h, MQ main courtyard
Theater an der Wien:
TaWoW – Ab in die Maske!
Children not only get to know the costume and mask department of the Theater an der Wien, but also Amahl and his friends from the family opera. The children can choose for themselves whether they want stars painted on their cheeks or made-up as a camel.

from 14h, MQ Boules court (behind mumok)
Boules tournament
registration at sommerfest@mqw.at
From 14h you can warm up on the boules court for the boules tournament at 15h.

from 14h, MQ Amore (MQ forecourt)
Mini-golf tournament and "Schlagergarten Gloria"
registration at sommerfest@mqw.at
Join the free training on the "MQ Amore" mini-golf course for the mini-golf tournament starting at 15h. Twelve works of art in the form of mini-golf lanes invite you to actively experience contemporary art. "Schlagergarten Gloria" provides a good musical atmosphere.

14 thru 18h, water basinin the MQ main courtyard
Aquadrome
The MQ water basin in the main courtyard will be transformed into an island world by light and installation artist Martin Markeli, which visitors can explore from 14h with various floating objects. "Aquadrome" is a temporary installation that offers visitors the opportunity to train and demonstrate their manual skills by navigating and coordinating these objects. The focus is on the interaction of self-built and brought-along swimming objects (boats) by the visitors with those of the artist.

14 thru 17h, MQ main courtyard
WerkWerk (workshop)
"WerkWerk" invites you to become artistically creative yourself. Martin Nieratschker (founder of WerkWerk), Ricarda Stahl (founder of ricisart) and the prospective educator Valerie Wollenek show children how to create a vessel or a figure out of clay using different techniques. The finished pieces are then fired in the "WerkWerk" and can be glazed or picked up as is.

14.30 & 16h, MQ main courtyard
Theater an der Wien:
TaWhoop –Sing & Swing (participation workshop by Theater an der Wien)
Participate, sing along and dance along is the motto of the workshop "TaWhoop - Sing & Swing". We immerse ourselves in the songs of the family opera "Amahl and the Nightly Visitors". Together with a singer this will be super easy.

15 thru 16.15h,stage in the main courtyard
Tagebuch Slam (in German)
The "Tagebuch (=diary) Slam" offers an embarrassingly funny journey through time into the abysses of one's own puberty and that of others. Four amateurs read live from their old diaries and show that life writes the most beautiful stories.

from 15h, MQ forecourt
Kunstzelle at MQ: BUUUUUUUUU - Urban Instructions
artistic performance

16h,meeting point: MQ Point at the MQ main entrance
Secret MQ Tour(in German)
registration at sommerfest@mqw.at
Modern architecture combined with imperial splendor, large art museums as well as small cultural initiatives, leisure activities or just pure relaxation - the overview tour through the MQ gives an exciting insight into one of the largest lively cultural quarters in the world and reveals many a secret about the history of the MuseumsQuartier!

17 thru 19h, Architekturzentrum Wien, Kunsthalle Wien, Leopold Museum and mumok
free admission to all current exhibitions

17h & 18h, Leopold Museum
Free guided tours on the occasion of Egon Schiele's birthday

MUSIC & LIVE ACTS:

from 13h
DJ Martin Markeli
18h, stage in the main courtyard
LIVE: Sigrid Horn
19h, stage in the main courtyard
LIVE: Ernst Molden and Maria Petrova
© photo: Simon Lehner, creative direction & design: Rosebud
Back to main navigation