01.04.2022 to 30.10.2022 - MQ Amore

MQ Amore
CHILDREN & FAMILY, LEISURE & OUTDOOR
---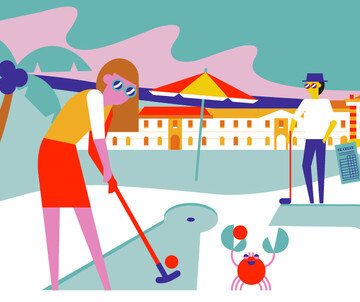 ---
All dates
• Days with event
MQ AMORE
MQ Amore - Mini Golf Sculpture Park - combines cultural enjoyment with leisure pleasure. A round of minigolf is always fun, even if getting the ball on target can be a challenge. At MQ Amore, each of the 12 minigolf courses is a work of art. A game of mini golf and a refreshing drink invite you to linger.
from April 1 thru October,
daily 12:00-22:00h / Sat, Sun & holiday 10:00-22:00h'
MQ forecourt

Price per game
Adults: € 5
Children (up to 12 years): € 3
Pack of ten tickets (non-transferable): € 40
Pack of ten tickets for children up to 12 years (non-transferable): € 25
contact/bookings:
reservierung@mqamore.at
+43 664 395 17 16
For an exclusive event with plenty of amore
Hire the whole sculpture park exclusively for your guests and join them in a round of minigolf. If you'd like to book drinks and snacks from our restaurateur, just let us know and we'd be delighted to help:
Rules
The required playing equipment (club, ball, MQ Amore Booklet, scorecard) can be obtained from the MQ Amore kiosk. A deposit must be paid. One entry fee pays for one round (12 holes).
1. The ball should be played from the tee-off area marked on the course. This is the only area of the course you can walk on, but only if absolutely necessary.
2. Each player attempts to hit the ball into the hole with as few strokes as possible.
3. You cannot walk on the artworks when playing.
4. The number of strokes taken is entered on the scorecard.
5. Each player has a maximum of six strokes for each course. If these have been used up without holing, the number of strokes is entered on the scorecard as 7.
6. The total number of strokes taken is the final score. The player with the fewest strokes wins.
7. If the ball comes to rest outside the course, it must be replaced by hand at the same spot from where it was struck.
8. If the ball comes to a halt at the edge or on an obstacle, it may be moved up to 20cm in order to enable play to continue.
Back to main navigation