11.08.2018 to 11.08.2018 - Hof 8

Calle Libre Closing Party
FREE ENTRY, ART, DANCE/PERFORMANCE/MUSIC, LEISURE & OUTDOOR, FILM & DIGITAL CULTURE
---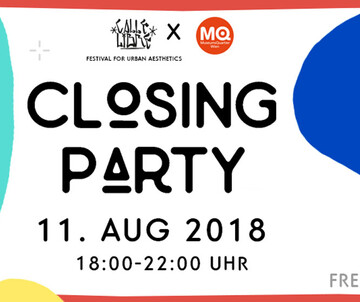 ---
All dates
• Days with event
01 wed
02 thu
03 fri
04 sat
05 sun
---
06 mo
07 tue
08 wed
09 thu
---
10 fri
---
12 sun
13 mo
14 tue
15 wed
---
16 thu
17 fri
18 sat
---
19 sun
20 mo
---
21 tue
22 wed
23 thu
24 fri
25 sat
---
26 sun
27 mo
---
28 tue
29 wed
30 thu
---
31 fri
Calle Libre Closing Party
Courtyard 8, free admission!
Calle Libre is a festival for urban aesthetics that brings together today's contemporary forms of graffiti and other forms of street art onto curated walls throughout the city.
Artists, residents and curators will get together at MuseumsQuartier and celebrate its closing - with dance performances by Maria Shurkhal and Jaskaran Anand as well as an exclusive presentation of a silkscreen art piece.
Afterwards the film White Walls Say Nothing will be presented as part of the frame[o]ut Open Air Cinema.
Back to main navigation