- MQ Main Courtyard, Hexenkessel

frame[o]ut 2018 - Open Air Cinem at MQ
FREE ENTRY, LEISURE & OUTDOOR, FILM & DIGITAL CULTURE
---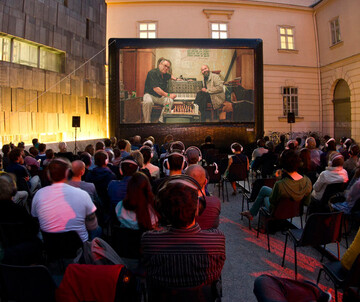 13.07. to 01.09.
every Friday at MQ Main Courtyard and Saturdays at MQ Hof 8 at the boule courts
free admission
Summer is here and the frame[o]ut Open Air Cinema plays on 16 evenings from July to September at the main court and yard 8 in the MuseumsQuartier Vienna. In the 11th edition, frame[o]ut screen open air and at nightfall local and international cinema on each Friday and Saturday with current topics, exciting stories and surprising styles - free admission and mosquito-free.

The programme includes cineastic partnerships. On the opening weekend frame[o]ut will screen the winning films of the AUSTRIAN AMERICAN SHORT FILM FESTIVAL 2018. Together with CALLE LIBRE, a weekend will be all about street art. NIPPON NATION will present a nerdige feature comedy and during a film walk with YOUKI, Austria's largest youth media festival, the audience will see the highlights of their current programm. For the first time frame[o]ut is cooperating with the popular CAT VIDEO FESTIVAL at the 25th August 2018.

Yet, there is still more to discover at the frame[o]ut program 2018. The evenings will start with audience discussions with film crews and guests!
The frame[o]ut team is looking forward to a nice summer and whishes the audience a good projection!
13.07. Opening, MQ Main Courtyard
20.30h Live Act: Month of Sundays
21.30h Welcome speech Martina Theininger and Guests
21.45h Austrian Premiere: The Rider
14.07. MQ Hof 8 at the Boule Courts
21.30h Austrian American Short Film Festival
20.07. MQ Main Courtyard
21.30h 100 Yen Love
21.07. MQ Hof 8 at the Boule Courts
21.30h All Creatures Welcome
27.07. MQ Main Courtyard
21.30h Beyond - An African Surf Documentary
28.07. MQ Hof 8 at the Boule Courts
21h Short-Film Program and Discussion | Platform #KlappeAuf
21.30h The Girls
03.08. MQ Main Courtyard
21h Surprise Short-Film Screening
21.20h L'Homme De Rio
04.08. MQ Hof 8 at the Boule Courts
20.45h Short-Film Ramble
21.45h International Short-Film Program
10.08. MQ Main Courtyard
21h Faces Places
11.08. MQ Hof 8 at the Boule courts
21.30h Austrian Premiere: White Walls Say Nothing
17.08. MQ Main Courtyard
21h Surprise Short-Film Screening
21.20h Skate Kitchen
18.08. MQ Hof 8 at the Boule Courts
21h Die_Anderen_Bilder
21.17h The Cleaners
24.08. MQ Hof 8 at the Boule Courts
21h Das bin nicht ich, das ist ein Bild von mir
21.40h The Steel Mill Café
25.08. MQ Main Courtyard
20.30h Cat Video Festival Vienna
31.08. MQ Main Courtyard
20.30h Rafiki
01.09. Final Evening MQ Hof 8 at the Boule Courts
21h Dries

www.frameout.at
In cooperation with MuseumsQuartier Wien
Back to main navigation