04.11.2020 to 05.11.2020 - Halle E+G
Host: Tanzquartier Wien
cancelled: Katerina Andreou - Zeppelin Bend
DANCE/PERFORMANCE/MUSIC
---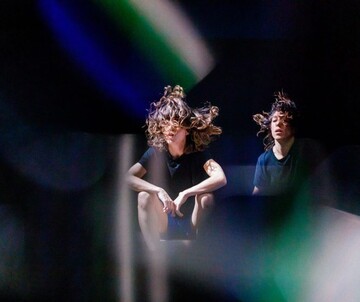 ---
All dates
• Days with event
01 sun
02 mo
03 tue
---
06 fri
07 sat
08 sun
09 mo
---
10 tue
---
11 wed
12 thu
13 fri
14 sat
15 sun
---
16 mo
17 tue
18 wed
---
19 thu
20 fri
---
21 sat
22 sun
23 mo
24 tue
25 wed
---
26 thu
27 fri
---
28 sat
29 sun
30 mo
---
"In my ongoing research on free will on stage and its subjective nature, I explore different body practices and try to approach new skills as if they were new technologies. I keep learning in order to keep unlearning. This saturation of rigour and discipline is paired with a desire to tackle matters such as control and power structures. It helps me sort through knowledge and constitute my own personal culture. Which training for which performance? Which effort for which goal?
Zeppelin Bend, taking the name of an end-to-end joining knot that was used to moor airships, is a duo. Natali Mandila and I are putting together dances, actions and sounds that demand extreme discipline and psychedelic imagination. In a world where staying 'grounded' or getting 'high' often seem to be considered survival methods, we try out both. While seeking moments of freedom, we try to maintain a sense of realness by focusing on our bodies in the act of doing." – Katerina Andreou
After the premiere had to be postponed twice due to the coronavirus, Zeppelin Bend is now celebrating its world premiere at Tanzquartier Wien.
opening hours
| | |
| --- | --- |
| mo-fri: | 10 – 18:00 |
| sat-sun: | closed |
---
Back to main navigation