31.07.2020 to 31.07.2020 - MQ Main Courtyard

frame[o]ut 2020: CLOSE ENCOUNTERS OF THE THIRD KIND
FREE ENTRY, LEISURE & OUTDOOR, FILM & DIGITAL CULTURE
---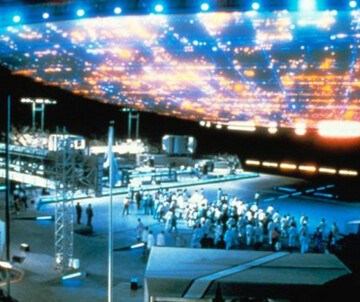 ---
All dates
• Days with event
01 wed
02 thu
03 fri
04 sat
05 sun
---
06 mo
07 tue
08 wed
09 thu
---
10 fri
---
11 sat
12 sun
13 mo
14 tue
15 wed
---
16 thu
17 fri
18 sat
---
19 sun
20 mo
---
21 tue
22 wed
23 thu
24 fri
25 sat
---
26 sun
27 mo
---
28 tue
29 wed
30 thu
---
frame[o]ut: CLOSE ENCOUNTERS OF THE THIRD KIND


MQ Haupthof, Eintritt frei!
(bei Schlechtwetter: Arena21)
Filmvergnügen unter freiem Himmel – Cineasten können sich im Rahmen von frame[o]ut auch heuer wieder auf ein Programm mit neuen und jungen Filmen sowie überraschenden filmischen Formaten freuen, selbstverständlich unter Einhaltung der aktuellen Veranstaltungsbestimmungen*. An 16 Abenden von Juli bis September bespielt die 13. Ausgabe von frame[o]ut bei Einbruch der Dunkelheit den Haupthof und den Hof 8 im MuseumsQuartier Wien.
Freitag, 31.07., 21h
CLOSE ENCOUNTERS OF THE THIRD KIND
R: Steven Spielberg | USA 1977 | 134 min | Spielfilm | OF Englisch
Mit Richard Dreyfuss, François Truffaut, Teri Garr, J. Allen Hynek u.a.
Lang verschollen Flugzeuge mit lebenden Piloten finden sich plötzlich in der Wüste wieder, ein versunkenes Schiffswrack taucht in Indien auf und seltsame Lichtphänomene am Kleinstadthimmel sind Indizien, die das Ankommen von Aliens in Ufos auf der Erde ankündigen. Familienvater Roy Neary wird von Visionen heimgesucht, die sein Leben und den gesamten m Planeten Erde komplett verändern werden.
*Sämtliche Vorführungen finden unter den derzeit geltenden Bestimmungen für Veranstaltungen statt. Um größtmögliche Sicherheit für alle BesucherInnen zu gewährleisten, wird daher für alle BesucherInnen ausnahmslos eine Sitzordnung auf einzelnen Plätzen im Schachbrettmuster gelten. Die Anzahl der Sitzplätze ist begrenzt. Gleichzeitig wird mit Aufstellern auf die Einhaltung der Hygienemaßnahmen hingewiesen und an die Eigenverantwortung der BesucherInnen appelliert.
www.frameout.at
Eine Kooperation mit dem MuseumsQuartier Wien
Back to main navigation