09.09.2023 to 31.10.2023 - MQ ART BOX

MQ Art Box: Gabriele Edlbauer & Julia S. Goodman
FREE ENTRY, ART
---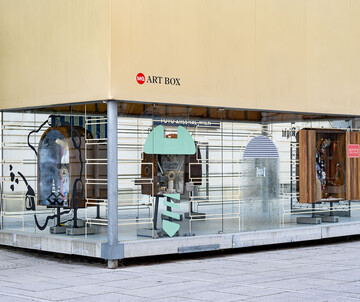 The Customer Is Always Right
09.09. – 31.10.


Finissage: Tue 31.10., 17h (Halloween)
Five huge, bulky, top-heavy rust-coloured figures have come together in the MQ Art Box. Turned towards each other, but nevertheless introverted, they seem grim, brooding, and sorrowful, their foreheads and mouths puckered. They stand dauntlessly on their disproportionally small steel legs stuck in heavy concrete-block shoes. Something seems to be giving them a headache.
The open backs of their heads are pressed up against the glass façade, making it possible to look deep into their skulls. Bizarre arrangements can be discovered inside them: through the pane of glass, show window decorations are visible, revealing the product worlds of very different shops.
From the trivial to the precious—people who succumb with curiosity to the compulsion to look quickly find an object of desire. 'Kitty's Litter & Spirits' is a shop for alcoholic spirits and cat-related products; people who would like to buy cheese while their wills are being notarized will be pleased by 'Life's Important Moments'. Things become very quirky in the case of the shop for car parts and alternative medicines. 'Fridays for Hubraum' can be read on a sticker there, but it did not originate in the artists' world of ideas, but from the real world. The two artists exaggerate the surreal quality of the consumer world and emphasize the fairy-tale-like quality of reality. They masterfully draw from the surface of our present, mix motifs from pop and club culture, trash, art history, motor sport, and the culinary with elements from conspiracy theories, toxic masculinity, nail art, body culture, and bric-a-brac. The two artists are able to do and make anything: painting, sculpture, installations, photography, found objects, ceramics, stained-glass painting, stage design, and advertising. The desire to look is celebrated here: one can be captivated by the wonderful glazing of the ceramic blue cheese or marvel at the sculpted biceps in the show window of the fitness centre—and have fake nails made at the same time.
Humour and a wealth of details characterize the arrangement as a whole, thus provoking very different, at times grotesque associations oscillating between reality and fiction. Wherever one immerses oneself in this fantastical work, whatever one discovers, thinks, or feels—one thing holds true: The customer is always right.
In the last few years, the Vienna-based artists Gabriele Edlbauer (*1988) and Julia S. Goodman (*1987) have manoeuvred through many collaborative projects, inspired again and again by the interests of their respective personal artistic practice. Their joint works often take recourse to common narrative structures and expand them in diverse directions. By combining a multifaceted vocabulary of materials and narratives, the artists try to interrogate what is supposedly familiar and inspire confidence at the same time. Gabriele Edlbauer (AT) studied at the Akademie der bildenden Künste Wien (Academy of Fine Arts Vienna, 2006–12) and at the Royal Institute of Art in Stockholm (2009–11). Julia S. Goodman (USA) completed her education at New York University (2005–09) and at the Akademie der bildenden Künste Wien (2015–20). Their most recent exhibitions include Über das Neue. Wiener Szenen und darüber hinaus – Teil 1, at Belvedere 21, and On the Road Again, at the Künstlerhaus (both 2023).
Curated by Verena Kaspar-Eisert, Chief Curator MQ


The Customer Is Always Right, 2023 © Gabriele Edlbauer & Julia S. Goodman | MuseumsQuartier Wien, Photo: Simon Veres
Back to main navigation