20.05.2022 to 12.09.2022 - Leopold Museum

Franz Hagenauer
ART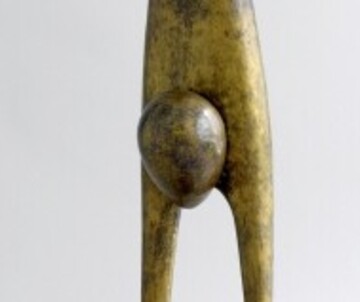 ---
All dates
• Days with event
01 sun
02 mo
03 tue
04 wed
05 thu
---
06 fri
07 sat
08 sun
09 mo
---
10 tue
---
11 wed
12 thu
13 fri
14 sat
15 sun
---
16 mo
17 tue
18 wed
---
19 thu
---
---
---
---
---
---
---
13 tue
14 wed
15 thu
---
16 fri
17 sat
18 sun
---
19 mo
20 tue
---
21 wed
22 thu
23 fri
24 sat
25 sun
---
26 mo
27 tue
---
28 wed
29 thu
30 fri
---
Franz Hagenauer (1906–1986) created an extensive oeuvre characterized by a tension-filled synthesis of sculpture and refined arts and crafts. Based on the human body and on shapes derived from the flora and fauna, Hagenauer went through all the modes of expression, influenced in phases by Neo-Classicism, the Bauhaus movement, Art Deco and the topoi of popular culture. Often reduced to mere ovoids, his heads and busts from chased metal, created from the late 1920s, are among the most radical Modernist forays in Austrian art of the interwar period.
Hagenauer enjoyed a varied artistic education: Classes for ornamental form theory with Franz Čižek at the Vienna School of Arts and Crafts were followed by studies in the sculpture class of Anton Hanak and a short stint in Josef Hoffmann's class for metalwork, while a traineeship with Dagobert Peche afforded him insights into the operations of the Wiener Werkstätte. At the age of 25, he became a member of the Vienna Secession.
As he was also involved with the production in his father's workshop, Franz Hagenauer maintained an animated artistic exchange with his brother Karl. After his death in 1956, Franz took over the family workshop which already enjoyed an international reputation. After the end of the War in 1945, Franz Hagenauer shifted his activities to Salzburg where his exploration of wood invested especially his small-scale sculptures with a warmer and more sensual touch. Between 1962 and 1976 the artist headed the master class for metal design at the University of Applied Arts Vienna. He remained a tireless experimenter until his death.
An exhibition in cooperation with the MAK – Museum of Applied Arts and with kind support from the car dealership Liewers and the Breinsberg family.
opening hours
| | |
| --- | --- |
| mo: | 10:00 – 18:00 |
| tue: | closed |
| wed-sun: | 10:00 – 18:00 |
---
Back to main navigation