06.06.2023 to 06.06.2023 - Tanzquartier Wien

Ernst Caramelle: Detail der Totalansicht
FREE ENTRY, ART, DANCE/PERFORMANCE/MUSIC
---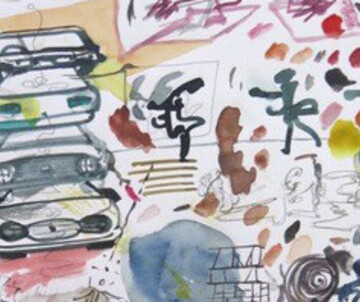 Performance Passage. Space for Poetics of the In-between
Performance Passage presents a new visual composition by artist Ernst Caramelle.
Ernst Caramelle has been considered an important representative of conceptual art since the 1970s, yet he always executes it with a wink: according to the title of one of his exhibitions, he makes "very pleasant conceptual art". He is known, among other things, for his large-scale temporary murals, with which he intervenes in existing architectures, seemingly unhinging their spatial order. But time also plays a major role in Ernst Caramelle's oeuvre: he lets it do some of the work – for example, when it comes to the so-called light works (sun on paper). Drawing is essential to his creations: from a casual sketch to a meticulously executed work, everything plays an important role. We definitely look forward to what will happen in and with the light-box organ in Performance Passage when Ernst Caramelle gets to work. After all, he is an expert in reversals – whether linguistic, temporal, spatial or as mirror images – certainly with a good dash of irony.
"Performance Passage. Space for Poetics of the In-between" is a curatorial project by Andrea Maurer. Each year, two visual compositions are presented on the display developed by her. Artists from various fields are invited to participate, with a focus on language-experimental positions. The spatial design of Performance Passage was devised by Christoph Meier. An accompanying publication to go with the respective installation can be purchased from the self-service machine on site.
opening hours
| | |
| --- | --- |
| mo-fri: | 10 – 18:00 |
| sat-sun: | closed |
---
Back to main navigation