25.11.2016 to 17.04.2017 - mumok

Július Koller
ART
---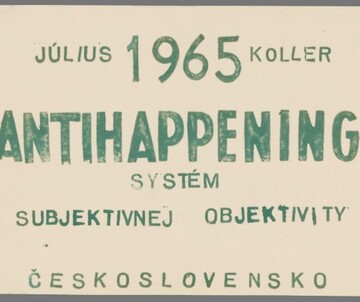 ---
All dates
• Days with event
01 tue
02 wed
03 thu
04 fri
05 sat
---
06 sun
07 mo
08 tue
09 wed
---
10 thu
---
11 fri
12 sat
13 sun
14 mo
15 tue
---
16 wed
17 thu
18 fri
---
19 sat
20 sun
---
21 mo
22 tue
23 wed
24 thu
---
---
---
---
---
---
---
18 tue
---
19 wed
20 thu
---
21 fri
22 sat
23 sun
24 mo
25 tue
---
26 wed
27 thu
---
28 fri
29 sat
30 sun
---
Július Koller
One Man Anti Show

Location: mumok
Slovak artist Július Koller (1933–2007) is seen as one of the most important postwar artists from Eastern Europe. From November 25, 2016, mumok is showing the most comprehensive retrospective of Koller's work to date, beginning with works from the early 1960s and presenting his entire oeuvre. In preparing this exhibition, the three curators Daniel Grúň, Kathrin Rhomberg, and Georg Schöllhammer were the first to systematically review the artist's archive, which is closely interwoven with his work. From this research, they have developed a new approach toward display that reflects the full dimensions of Koller's artistic practice. This exhibition thus presents a new appraisal of this iconic figure in postwar European art, whose importance has only been more clearly appreciated and internationally recognized over recent years. Koller's work was made and developed under historical conditions and terms of reference that were diametrically opposed to the frameworks pertaining to "Western" art, and nonetheless his social approach to art has increasingly influenced a younger generation of artists around the world over the last decade.
Koller's dry humor and his conceptual severity are just two facets of a stringent and highly consistent strategy by which the real world and immediate everyday life are utilized for an infinite operation of renaming that creates "cultural situations" intended to lead to "new life—a new creativity, and a new cosmopolitan culture." Aiming to put an end to modernist aesthetics, Koller engages in forms of art committed to shaping new cultural and social awareness.
Curated by Daniel Grúň, Kathrin Rhomberg, and Georg Schöllhammer
A thematic selection from the retrospective was on display from September 25, 2015, to January 11, 2016, at the Warsaw Museum of Modern Art.
opening hours
| | |
| --- | --- |
| mo: | closed |
| tue-sun: | 10:00 – 18:00 |
---
Back to main navigation