06.09.2023 to 25.10.2023 - EIKON
Host: Q21
Sabine Groschup: Auf_allen_Wegen, eben
FREE ENTRY, ART
---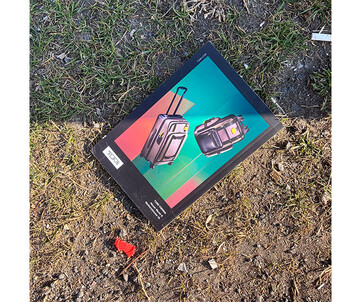 Opening: Tue 05.09., 19h
"The discarded, lost things live a second life with me." - Sabine Groschup
Since 2020, Sabine Groschup has been focusing on the carelessly discarded and lost, photographing trash with her mobile phone. Groschup discovers more in these things than rubbish and traces the beauty in the supposedly ugly. In each of Groschup's square photographs there is a story that could be told.
According to this understanding, the pictures she posts almost daily on the Instagram account @daily_dirt_report add up to a narrative of their own, a kind of film or novel that knows neither beginning nor end. The carefully composed photos also vary through the multitude of backgrounds on which the objects are located. Although the images correspond in the typical grid of Instagram and form a homogeneous surface, in their composition the photographic parts always remain as individual as the found objects and the people who left the trash behind.
Auf_allen_Wegen, eben presents a selection of the account @daily_dirt_report, which has now grown to over 800 photos, for the first time in the context of an exhibition. Two new projections - with a plastic bag dancing in the wind and an excitedly fluttering window covering as cinematic protagonists - complement the show on the poetry of our everyday waste.
A main feature is dedicated to the artist in EIKON #123.
Sabine Groschup (born 1959 in Innsbruck) lives and works as a visual artist, filmmaker and author in Vienna and Berlin. She studied architecture and archaeology at the University of Innsbruck, experimental design (painting and animation film) at the University of Applied Arts (with Maria Lassnig) and the Düsseldorf Art Academy (with Nam June Paik), as well as ethnology at the University of Vienna. Since the 1980s, Groschup has continuously expanded her media vocabulary, which now includes photography, animation, video and sound installation, foil painting and textile works as well as mixed media, literature and poetry.

Photo: Sabine Groschup, from the series #daily_dirt_report, since 2020
Back to main navigation