Vanina Saracino
area: Theorie
Key Facts
time period
November 2021 - November 2021
Vanina Saracino is a curator, writer, and lecturer. Her work focuses on man-made environmental breakdown, climate justice and more-than-human minds, with an emphasis on lens-based and time-based art practices. She is currently co-curating (with Daniela Arriado) the upcoming Screen City Biennial, titled Other Minds (Oslo, 2022) and teaching the seminar 'More-than-human perspectives and tentacular thinking' with Prof. Nina Fischer at the department of Art and Media, Universität der Künste (UdK), Berlin. In 2019, she co-curated the Screen City Biennial, Ecologies – Lost, Found and Continued (Stavanger, Norway) and edited the SCB Journal, Vol.2. She is the co-founder of OLHO, a project about contemporary art and cinema initiated in Rio de Janeiro and São Paulo (2015–2018). As an independent curator, she has collaborated with Teatrino di Palazzo Grassi (Venice), TBA21 – Academy, Cinemateca Brasileira (São Paulo), Cinemateca do MAM (Rio de Janeiro), Palais de Tokyo (Paris), Salzburger Kunstverein (Salzburg), The EYE Film Institute (Amsterdam), among others. Saracino has realized residencies at Fire Station Artists' Studios (Dublin, 2019), CPR – Curatorial Program for Research (Reykjavik, Tórshavn, Tromsø, Boden, Luleå, Hyrynsalmi, Helsinki, 2018), GENERATOR, 40m cube/EESAB (Rennes, 2018), and was awarded research visiting grants by ProHelvetia (Switzerland, 2018), Goethe-Institut (NYC, 2018), The Danish Art Foundation (Copenhagen, 2018 and 2017) and Frame Contemporary Art Finland (Helsinki and Turku, 2019), among others.
Talk "'Seeing Through Flames'. Organised resistance toward climate justice" + Q&A within Oliver Ressler's exhibition Overground Resistance.
SEEING THROUGH FLAMES
Organised resistance toward climate justice

A growing number of artists are taking part in the struggle toward climate justice, aiming to elaborate new strategies of visibility to counterbalance the politics of concealment operated by extractive capitalism—informing, creating awareness, mobilizing. From an intersectional standpoint, this talk will virtually bring together a number of art practices that not only pursue remarkable research, but also seek to disseminate their signal mainly far from the sheltered space of museums and traditional exhibition venues, becoming agents of transformation and of organized action toward climate justice, against multiple forms of climate discrimination.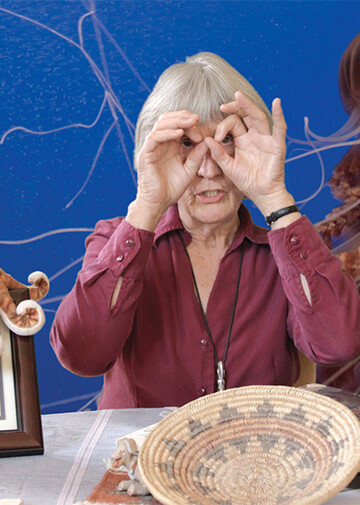 Interview:
Vanina Saracino in conversation with Sabine Winkler
Invited by curator Oliver Ressler, Vanina Saracino will present a Thursday Talk as part of the exhibition "Overground Resistance" at frei_raum Q21 exhibition space. On the occasion of Vienna Art Week, she talked with Sabine Winkler about her curatorial practice and artistic activism.
read more
Back to main navigation