24.10.2020 to 18.04.2021 - Kunsthalle Wien

Želimir Žilnik. Shadow Citizens
ART
---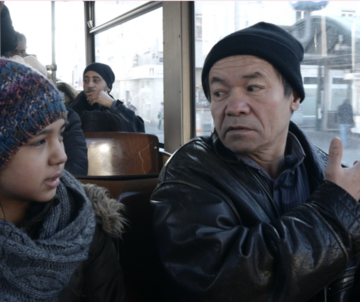 ---
All dates
• Days with event
01 thu
02 fri
03 sat
04 sun
05 mo
---
06 tue
07 wed
08 thu
09 fri
---
10 sat
---
11 sun
12 mo
13 tue
14 wed
15 thu
---
16 fri
17 sat
18 sun
---
19 mo
20 tue
---
21 wed
22 thu
23 fri
---
---
---
---
---
---
---
---
19 mo
20 tue
---
21 wed
22 thu
23 fri
24 sat
25 sun
---
26 mo
27 tue
---
28 wed
29 thu
30 fri
---
In cooperation with Viennale and Austrian Film Museum
Shadow Citizens offers an insight into the radical film praxis and extensive oeuvre of filmmaker Želimir Žilnik (b. 1942, based in Novi Sad, Serbia) within an exhibition context. The exhibition is part of the official Viennale 2020 program and a collaboration with Austrian Film Museum.
From his beginnings in the lively amateur film scene of Yugoslavia in the 1960s, Žilnik has gone on to make more than fifty films, including a number of feature films and TV productions, often in the genre of docudrama. He received international recognition early on, winning the Golden Bear for the Best Film at the 1969 Berlin International Film Festival for Early Works. In the 1970s, his films encountered political opposition, and he left Yugoslavia for Germany, where he realized several independent films, including some of the earliest films dealing with the topic of guest workers. In the 1980s, after leaving Germany—due to his films once again facing political opposition and censorship—and returning to Yugoslavia, he made numerous TV and feature films in which he portrayed early symptoms of the country's growing social conflicts, continuing in the 1990s with films dealing with the maladies of the post-socialist transition as well as questions of migration.
Many of Žilnik's films have prophetically anticipated real-world events such as the dissolution of Yugoslavia, the economic transition from socialism to a neoliberal order, the elimination of workers' rights, and the wider social erosion related to labor and migration. The exhibition's title, Shadow Citizens, reflects Žilnik's lifelong focus on invisible, suppressed, and under- and misrepresented members of society.
This exhibition is an expanded version of a show WHW curated previously in Edith-Russ-Haus for Media Art in Oldenburg and Gallery Nova in Zagreb. The most recent feature film Žilnik made was shot in Vienna. The artist will be invited for a residency during the exhibition and to be involved in mediation programs with various collaborators and communities he worked with.
Curators: What, How & for Whom / WHW (including Ana Dević)
opening hours
| | |
| --- | --- |
| mo: | closed |
| tue-sat: | 12:00 – 18:00 |
| sun: | closed |
---
Back to main navigation