05.07.2022 to 04.09.2022 - ZOOM Kindermuseum

Summer hullabaloo at ZOOM!
CHILDREN & FAMILY
---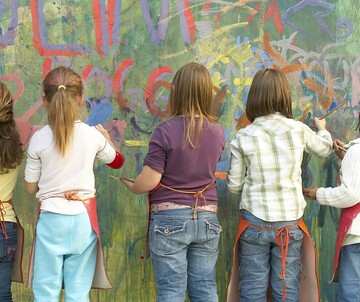 ---
All dates
• Days with event
01 fri
02 sat
03 sun
04 mo
---
---
---
---
---
---
---
---
---
05 mo
---
06 tue
07 wed
08 thu
09 fri
---
10 sat
---
11 sun
12 mo
13 tue
14 wed
15 thu
---
16 fri
17 sat
18 sun
---
19 mo
20 tue
---
21 wed
22 thu
23 fri
24 sat
25 sun
---
26 mo
27 tue
---
28 wed
29 thu
30 fri
---
Summer at the Kindermuseum will be colorful and full of fantastic ideas! We've made space in the large exhibition hall for ZOOM's most popular programs. A fully furnished apartment needs to be painted in crazy colors, model dreamhouses are being built from unusual wooden elements, and our collaborative film experiments defy gravity and other limitations. In the Ocean we dive into cool underwater worlds, and ZOOM Mobil brings creative open-air programs into the city. There's even something going on in the Courtyard outside ZOOM: follow the artistic instructions to explore the MQ complex, hop across the Wellmoor, and join in as we create a huge peace sign in the display window.
Program
Registration required: +43 1 5247908 / kindermuseum.at
Wooden house!
For children 4 to 12 years
Duration: 75 minutes / price: € 5 per person
Tue to Fri, 11.15h & 12.45h
Sat, Sun & holidays, 9.45, 11.15h, 12.45h, 15h & 16.30h
Imagine you're building a house for you and your best friends. What does it look like? Is it huge or squat, airy or labyrinthine, is it round or square or wavy? Enter our wood workshop and build a model of your dream house out of planks, wooden dowels, branches, and all sorts of unusual wooden elements.
Paint with us!
Workshops for children from 4 to 12 years
Duration: 75 minutes / price: € 5 per person
Tue to Fri, 11.15h & 12.45h
Sat, Sun and holidays, 9.45, 11.15h, 12.45h, 15h & 16.30h
There's a fully furnished apartment in the middle of ZOOM. But it's not colorful enough yet! Paint the walls together, daub the sofa and standing lamp, and give the rocking horse a new coat of paint. Giving the soft toys a new color is a good idea, and the television would look much better with yellow polka dots. You can even paint the car in the courtyard. It's a ton of colorful fun!
Pixilation sensation!
Animated film workshop for children and young people from 8 years
Duration: 120 minutes/ price: € 7 per person
Tue to Fri, 12.15h
Sat, Sun & holidays, 10.30h & 12.45h
Come to our summer film studio and make a pixilation animation! A collaborative story emerges from lots of individual ideas, a film comes together out of lots of individual images. You transform yourselves into film figures, think up a setting and how it looks, and carry out film experiments together to defy gravity and any other limitations!
opening hours
| | |
| --- | --- |
| mo: | closed |
| tue-fri: | 13:15–16:15 |
| sat-sun: | 9:15 –16:15 |
---
Back to main navigation