07.11.2018 to 07.11.2018 - mumok

mumok Kino: The Blazing World
ART, FILM & DIGITAL CULTURE
---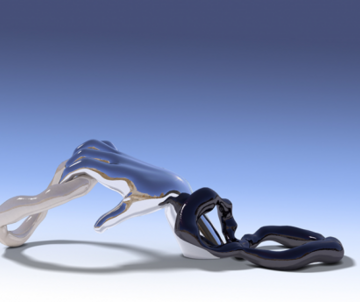 The title for this evening is taken from the first-ever novel to be called science fiction, written by Margaret Cavendish in the seventeenth century. In spite of its setting in a royal court, this book takes an explicitly feminist stance. The narrator is a young woman who is crowned queen of a planet named "The Blazing World." Apart from numerous events, Cavendish describes the heroine's motivation as a pacifist who believes in inclusion, and who uses her reign to combat sexual discrimination. In the context of this unique story, this program features films by women artists who use the genre of science fiction and many different methods and materialities to address the themes of body politics, transsexuality, the body, queer feminism, and solidarity.
Program
Barbara Kapusta, Empathic Creatures, 2018, 7 min
Joan Jonas, Double Lunar Dogs, 1984, 25 min
Lynn Hershman Leeson, Seduction of a Cyborg, 1994, 6 min
Doireann O'Malley, Prototypes (Part I: Quantum leaps in trans semiotics through psychedelic snail serum), 2017, 35 min

Presented by Cathrin Mayer, followed by a conversation with Barbara Kapusta
Barbara Kapusta lives in Vienna. Exhibitions (selection): The Giant, Gianni Manhattan, Vienna (2018); Vice Versa: Our Earth is Their Moon, Our Moon is Their Earth, Prague (2018); Empathic Creatures, Ashley Berlin (2018).
Cathrin Mayer is assistant curator at KW Institute for Contemporary Art in Berlin and has taught at the University of the Arts and at Bard College in Berlin. She has recently worked on exhibitions and screenings with Barbara Kapusta (Empathic Creatures, Ashley, Berlin), Lynn Hershman Leeson (First Person Plural, KW Institute for Contemporary Art, Berlin), and Doireann O'Malley (Bob's Pogo Bar, KW Institute for Contemporary Art, Berlin). Alongside her work for art institutions, she curates exhibitions and writes for art magazines (Brand New Life, Girls Like Us, etc.).
opening hours
| | |
| --- | --- |
| mo: | closed |
| tue: | 10:00 – 18:00 |
| wed: | 10:00 – 20:00 |
| thu-sun: | 10:00 – 18:00 |
---
Back to main navigation