10.09.2021 to 10.10.2021 - MQ Main Courtyard

Earthtime 1.78
FREE ENTRY, ART
---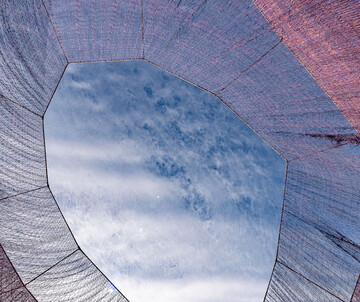 ---
All dates
• Days with event
01 wed
02 thu
03 fri
04 sat
05 sun
---
06 mo
07 tue
08 wed
09 thu
---
---
---
---
---
---
---
---
---
---
---
11 mo
12 tue
13 wed
14 thu
15 fri
---
16 sat
17 sun
18 mo
---
19 tue
20 wed
---
21 thu
22 fri
23 sat
24 sun
25 mo
---
26 tue
27 wed
---
28 thu
29 fri
30 sat
---
31 sun
Earthtime 1.78 - a net sculpture by Janet Echelman at MuseumsQuartier Wien
September 10 thru October 10, MQ Main Courtyard, free admission



Artist Talk with Janet Echelman: Fri 10.09., 19:30h MQ Libelle, free admission
Project management: Viktoria Schödl, curator: Klaus Krobath
Lighting concept: Andreas Ryba
Special thanks to Haider Bau and werkstudio PERCO
American artist Janet Echelman is famous for her enormous net sculptures that span plazas and transform public spaces throughout the world. From 10 September until 10 October her installation "Earthtime 1.78 Vienna" will stretch over MuseumQuartier's Main Courtyard, creating a very special atmosphere both during the day and, using various lighting configurations, the evening.
Janet Echelman's works defy categorization as they occupy the boundaries between art, architecture, urban design, material science, computer science, and structural and aeronautical engineering. Using unusual materials – from fishnets to atomised water particles – Echelman combines ancient craft with original computer design software to create works of art. Her billowing, building-sized sculptures, choreographed by wind and light, transform into living environments that entrance the viewer.
With her sculpture series Earthtime, Echelman aims to heighten awareness of our connectedness to each other and to our physical planet. The installation "Earthtime 1.78", which will span the MQ Main Courtyard, celebrates the connection between sky and earth, old and new, humankind and our physical world, and seeks to reconcile opposites with vibrant colours and gentle curves.
The sculpture thus serves as a symbol of interconnectedness consisting of innumerable intertwined fibres. Each time a single knot moves in the wind, the position of every other knot on the surface of the sculpture changes in a constantly unfolding dance between man-made works and the forces of nature that are beyond our control.
The physical form of "Earthtime 1.78" was digitally modelled in Echelman's studio, inspired by a scientific dataset describing a single geological event: a 2011 earthquake and tsunami in Japan that caused ripple effects around the globe, and even accelerated the Earth's daily rotation. The number in the title refers to the measurement of 1,78 microseconds, the amount of time by which the Earth's day was shortened.
The creation of the sculpture begins with the extrusion of custom-produced fibres that are fifteen times stronger than steel. Specially dyed colors are braided into twine, then knotted both by loom and by hand. Each rope is spliced by hand using centuries-old craft techniques. The artwork thus connects the past to the present and lifts old methods to a new urban level.
About Janet Echelman
Janet Echelman is an artist who creates experiential sculpture at the scale of buildings that transform with wind and light. The art shifts from being an object you look at, to something you can get lost in.
Echelman's educational path has been nonlinear. After graduating from Harvard College, she lived in a Balinese village for five years, then completed separate graduate programs in painting and then psychology. It was an unexpected loss of her painting materials while on a Fulbright that began her journey from collaborating with fishermen on a beach in India to crafting her monumental fluidly-moving aerial sculptures today, in urban centers from London, Madrid, and Amsterdam, to Shanghai, Singapore, Santiago, and Sydney.
Recipient of the Guggenheim Fellowship, Harvard Loeb Fellowship, Aspen Institute Henry Crown Fellowship, and Fulbright Lectureship, Echelman was named an Architectural Digest Innovator for "changing the very essence of urban spaces". Her TED talk "Taking Imagination Seriously" has been translated into 35 languages with more than two million views. Oprah ranked Echelman's work #1 on her List of "50 Things That Make You Say Wow!", and she recently received the Smithsonian American Ingenuity Award in Visual Arts, honoring "the greatest innovators in America today."
Her permanent commissioned works have transformed urban environments around the world: "Bending Arc" (2020) in St. Petersburg, Florida, "Earthtime Korea" (2020) in South Korea, the fog sculpture "Pulse" (2018) at Philadelphia City Hall, "Dream Catcher" (2017) on the Sunset Strip in West Hollywood, "Impatient Optimist"(2015) at the Bill & Melinda Gates Foundation in Seattle, "Every Beating Second" (2011) at San Francisco International Airport, "Her Secret Is Patience"(2009) in downtown Phoenix, and "She Changes" (2005) in Porto, Portugal.
Back to main navigation