27.09.2019 to 16.02.2020 - mumok

Alfred Schmeller - The Museum as a Flashpoint
ART
---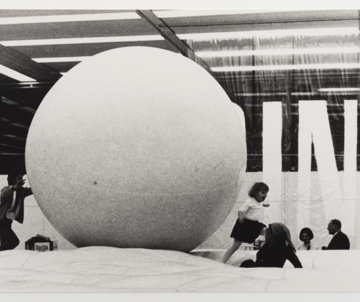 ---
All dates
• Days with event
01 sun
02 mo
03 tue
04 wed
05 thu
---
06 fri
07 sat
08 sun
09 mo
---
10 tue
---
11 wed
12 thu
13 fri
14 sat
15 sun
---
16 mo
17 tue
18 wed
---
19 thu
20 fri
---
21 sat
22 sun
23 mo
24 tue
25 wed
---
26 thu
---
---
---
---
---
---
17 mo
18 tue
---
19 wed
20 thu
---
21 fri
22 sat
23 sun
24 mo
25 tue
---
26 wed
27 thu
---
28 fri
29 sat
When Alfred Schmeller became the second director of the 20er Haus—today's mumok—in 1969, after Werner Hofmann left for Hamburg, he had already enjoyed a long and varied career. He was director of the Art Club and had worked as a critic for many years, before then working as the state art restorer for Vienna and the Burgenland.

In his collecting and exhibiting activities, Schmeller continued in the footsteps of Hofmann. Projects that wrote exhibition history during his era included The Vienna School of Fantastic Realism, Harald Szeemann's legendary exhibition Bachelors' Machines, and later Monte Verità and The Tendency toward the Total Work of Art. A major feature of Schmeller's purchasing policy was the Chicago Imagists, whose work has been rediscovered in recent years. This was a loose group of artists who had studied at the Chicago Art School and were influenced by surrealism, art brut, comics, and pop culture.

Alfred Schmeller opened up the museum in many ways, He invited the Vienna Festwochen to hold their avant-garde festival Arena in the 20er Haus, and he was particularly committed to bringing young people into the museum, staging painting actions that were revolutionary at the time. In 1970 Schmeller used the slogan "The Prater is closed—come to the museum" to advertise the sensational Hüpfwiese (Jumping Field) by Haus-Rucker-Co in the exhibition Live. This exhibition will document the most important of Alfred Schmeller's exhibitions and present important acquisitions he made, and also reconstruct this Hüpfwiese, which serves as a symbol for Schmeller's new unorthodox approach to the museum. Visitors are expressly invited to make use of it.
Curated by Susanne Neuburger
opening hours
| | |
| --- | --- |
| mo: | closed |
| tue-sun: | 10:00 – 18:00 |
---
contact
Christmas & New Year's opening hours :
24.12.: 10–14h
25.& 26.12.: 10–18h
31.12.: 10–16h
01.01.2023: 12–18h
02.01.2023: 10–18h
Museumsplatz 1, A-1070 Wien
Tel.: +43-1-525 00-0
info@mumok.at
www.mumok.at
---
Back to main navigation