02.06.2021 to 05.09.2021 - Kunsthalle Wien

Averklub Collective. Manush Means Human
ART
---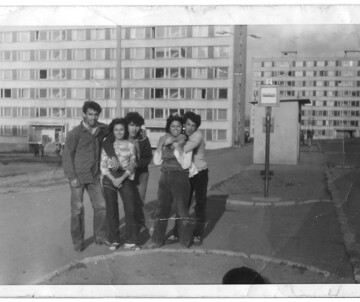 ---
All dates
• Days with event
---
06 mo
07 tue
08 wed
09 thu
---
10 fri
---
11 sat
12 sun
13 mo
14 tue
15 wed
---
16 thu
17 fri
18 sat
---
19 sun
20 mo
---
21 tue
22 wed
23 thu
24 fri
25 sat
---
26 sun
27 mo
---
28 tue
29 wed
30 thu
---
Averklub Collective is a loosely organized group with no fixed structure. Its core is constituted by several residents of the Chánov housing estate, which is considered to be the largest Roma settlement in the Czech Republic. The collective expands and contracts as it sees fit, adapting with various configurations of artists, theorists, and activists depending on current projects and needs.
Manush Means Human takes its title from Vincent Danihel's eponymous 1986 book, which analyzes the policy of Roma integration in Czechoslovakia. In order to outline possible models of equality that are universal, transnational, and go beyond identity politics, the exhibition looks into successes and failures of Roma emancipation policies during socialism more generally, but also more concretely through the specific history of the Chánov housing estate.
The selection of historical and contemporary artworks presented in Manush Means Human explores possibilities and impossibilities of producing art in scarce material conditions and the ways in which Roma artists address topics of work, poverty, housing, and the physical environment, as well as political organization and emancipation, thus weaving counternarratives to their persistent exoticization by mainstream culture. By touching upon key historical moments, such as the First World Romani Congress held in London in 1971, and presenting personal accounts of several generations of Chánov residents, the exhibition addresses the self-organization of Roma in fighting social exclusion, entrenched poverty, and widespread racism, from a decidedly non-elitist point of view.
opening hours
| | |
| --- | --- |
| mo: | closed |
| tue-sat: | 12:00 – 18:00 |
| sun: | closed |
---
Back to main navigation