05.07.2019 to 06.10.2019 - Kunsthalle Wien

Gelatin & Liam Gillick. Stinking Dawn
ART
---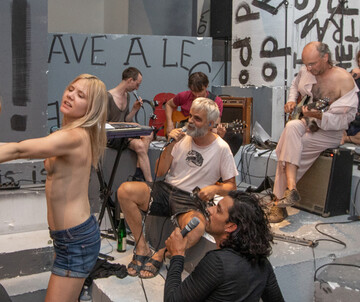 ---
All dates
• Days with event
01 mo
02 tue
03 wed
04 thu
---
---
---
---
---
---
---
---
---
---
07 mo
08 tue
09 wed
---
10 thu
---
11 fri
12 sat
13 sun
14 mo
15 tue
---
16 wed
17 thu
18 fri
---
19 sat
20 sun
---
21 mo
22 tue
23 wed
24 thu
25 fri
---
26 sat
27 sun
---
28 mo
29 tue
30 wed
---
31 thu
In the summer of 2019, Gelatin and Liam Gillick will transform the Kunsthalle Wien Museumsquartier into a movie set. Based on a film script Gillick wrote for the occasion, Gelatin will build a stage decoration-cum-installation, a project to be completed over the course of the exhibition. Shooting will commence on opening night – the public will be invited to participate – and continue on selected dates (to be announced). Completed segments of the film will be screened in the exhibition.
Gelatin are four Vienna-based artists. They first met in 1978, when they all attended a summer camp and have been working and playing together ever since. They began exhibiting internationally in 1993. Gelatin's practice incorporates the codes of relational aesthetics and invented a sculptural language and approach that is anarchic and irreverent. Humor and logic, as well as chaotic precision, are key instruments in the conception of new works. Their art draws a line from the insular and individual to the open-ended and collective, from the overtly erotic to the sublimated joy of togetherness. Often, museum visitors become part of their performances, which aim at transforming audience into community. Gelatin has exhibited internationally in museums including the Museum Boijmans van Beuningen, Rotterdam; the Fondazione Prada, Milan; the Musée d'Art Moderne de la Ville de Paris; Kunsthaus Bregenz; Kunsthalle Krems; and the 21er Haus, Vienna. Their work was included in Manifesta 11 in Zurich, the 49th and 54th Venice Biennale, the 1st Moscow Biennale, the Aichi Triennale, the Gwangju Biennale, the Shanghai Biennale, the Liverpool Biennial and EXPO 2000.
Based in New York, Liam Gillick (b. Aylesbury, U.K., 1964) deploys multiple forms to expose the new ideological control systems that emerged at the beginning of the 1990s. He has developed a number of key narratives that often form the engine for a body of work. Gillick's work exposes the dysfunctional aspects of a modernist legacy in terms of abstraction and architecture when framed within a globalized, neo-liberal consensus. His work has been included in numerous important exhibitions including documenta and the Venice, Berlin and Istanbul Biennales; he represented Germany in Venice in 2009. Solo museum exhibitions have taken place at the Museum of Contemporary Art in Chicago, the MoMA in New York and the Tate in London. Over the last twenty-five years, Gillick has also been a prolific writer and critic of contemporary art. He is the author of a number of books including a volume of his selected critical writing. He has also realized high-profile public projects including for the British Government Home Office building in London and the Lufthansa Headquarters in Frankfurt. Throughout this time Gillick has extended his practice into experimental venues and collaborative projects with artists including Philippe Parreno, Lawrence Weiner and Louise Lawler.
Curators: Lucas Gehrmann, Luca Lo Pinto
opening hours
| | |
| --- | --- |
| mo: | closed |
| tue-sat: | 12:00 – 18:00 |
| sun: | closed |
---
Back to main navigation