07.07.2019 to 07.07.2019 - MQ Main Courtyard

Filasteen Young Musicians Orchestra
FREE ENTRY, CHILDREN & FAMILY, DANCE/PERFORMANCE/MUSIC, LEISURE & OUTDOOR
---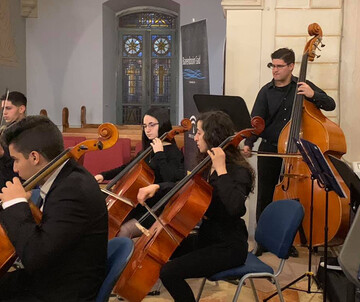 ---
All dates
• Days with event
01 mo
02 tue
03 wed
04 thu
05 fri
---
06 sat
08 mo
09 tue
---
10 wed
---
11 thu
12 fri
13 sat
14 sun
15 mo
---
16 tue
17 wed
18 thu
---
19 fri
20 sat
---
21 sun
22 mo
23 tue
24 wed
25 thu
---
26 fri
27 sat
---
28 sun
29 mo
30 tue
---
31 wed
Filasteen Young Musicians Orchestra
The Filasteen Young Musicians Orchestra appears for the first time in Vienna as part of the SCL Festival. They are joined by soloist Michael Barenboim and conducted by Thomas Guggeis.
The Filastine Young Musicians Orchestra is the flagship of Barenboim-Said Foundation Ramallah. The orchestra was founded 2015, and it consists of the young students of Barenboim-Said Foundation and other Palestinian musicians from the area. The orchestra is based in Ramallah Palestine, and it performs regularly at the Medical Relief Society and other venues.
The Barenboim-Said Foundation was established in 2003 by late Palestinian intellectual and scholar, Edward Said, and the renowned pianist and conductor, Daniel Barenboim. The founders believed that music enhances human life and, through the creation of the Foundation, they aimed to make classical music education accessible to Palestinian children and young adults. Through its activities at the Music Center in Ramallah, the Foundation focuses on Palestinian children and young adults regardless of their social or economic background and offers the highest level of education.
Back to main navigation