09.02.2018 to 17.02.2018 - Halle E+G

Die Mönche des Shaolin Kung Fu
DANCE/PERFORMANCE/MUSIC
---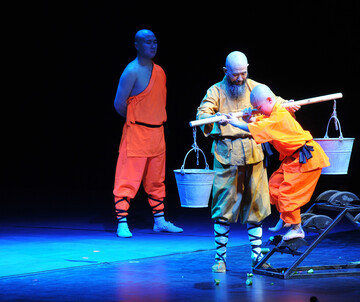 ---
All dates
• Days with event
01 thu
02 fri
03 sat
04 sun
05 mo
---
06 tue
07 wed
08 thu
---
---
12 mo
13 tue
14 wed
15 thu
---
18 sun
---
19 mo
20 tue
---
21 wed
22 thu
23 fri
24 sat
25 sun
---
26 mo
27 tue
---
28 wed
Die Mönche des Shaolin Kung Fu
Die neue Show!

Ort: Halle E
Tickets: www.oeticket.com
Die geheimnisvolle Mönchsstadt Shaolin am Fuße des heiligen Berges Song Shan ist seit Jahrhunderten körperliches, geistiges und spirituelles Zentrum Chinas.
Vor mehr als 1.500 Jahren begründete der indische Mönch Damo hier den Zen Buddhismus und lehrte die Mönche Körperübungen, die er Kung-Fu nannte.
Bis heute gilt der Shaolin Tempel als eines der größten Heiligtümer und Sehenswürdigkeiten Chinas. Tausende Schüler perfektionieren in den Schulen rund um den Tempel ihre Kenntnisse in Kung-Fu und leben nach den strengen Regeln des Zen Buddhismus.
Show-Produzent Herbert Fechter, der seit 23 Jahren die original Meister, Schüler und Mönche aus Shaolin mit ihren unglaublichen Körperübungen auf der ganzen Welt präsentiert, hat eine neue Show mit dem Titel "A mi to fo" zusammengestellt. Darin präsentieren 19 der besten Meister und Shamis (Schüler) ihre unglaublichen Fähigkeiten, jenseits der Grenzen der Physik.
Die Beherrschung ihres Qi (Körperenergie) durch Atmung und Training lässt sie Steinplatten, Holzlatten und Eisenstangen auf ihren Körpern und Köpfen zerschellen, auf Speeren, Schwertern und Nagelbrettern liegen, Speerspitzen gegen die Kehle richten und sogar eine Nähnadel durch eine Glasscheibe werfen. All diese unglaublichen Übungen sind live zu sehen, erzählt im Rahmen einer Geschichte über das Kloster, seine bewegte Geschichte, den geheimnisvollen Klostergründer Bodhidharma und seine strengen Lebensregeln. In faszinierenden Bildern werden die mystische Schönheit des Tempels, die archaische Naturgewalt des Song Shan Gebirges und die beeindruckenden Massenübungen der Kung-Fu Mönche gezeigt.
In den letzten 23 Jahren haben mehr als 5 Millionen Menschen in 5 Kontinenten und über 6000 Vorstellungen, die mystischen Kräfte der Shaolin Mönche bewundert. "A mi to fo" ist ein weiterer Schritt in der Entwicklung einer faszinierenden Show, die Einblick gibt in die Welt des geheimnisvollen, alten Chinas.


Back to main navigation