30.03.2023 to 30.03.2023 - Raum D / Q21
Host: Q21
Tatiana Sukhareva: Bicameral Mind
FREE ENTRY, LITERATURE & DISCOURSE, ART, FILM & DIGITAL CULTURE
---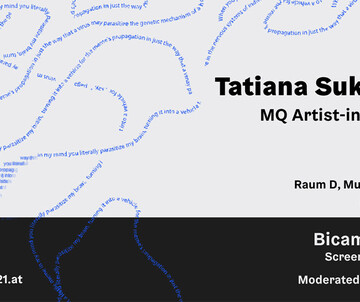 ---
All dates
• Days with event
01 wed
02 thu
03 fri
04 sat
05 sun
---
06 mo
07 tue
08 wed
09 thu
---
10 fri
---
11 sat
12 sun
13 mo
14 tue
15 wed
---
16 thu
17 fri
18 sat
---
19 sun
20 mo
---
21 tue
22 wed
23 thu
24 fri
25 sat
---
26 sun
27 mo
---
28 tue
29 wed
---
31 fri
Video Essay Screening & Artist Talk
The video essay "Bicameral Mind" is a part of Tatiana's larger project, "Inhuman Design," which she started in 2019.
These works delve into the manipulations of human consciousness, investigating how power relations cause mutations that impact entire generations.
This process results in the modeling of both biological and social bodies, hence the name "Inhuman Design."
In her studies, the artist researched various manipulation techniques, one of which is repetition, often used in propaganda. It becomes an earworm or brain worm, which continuously occupies a mind even after it is no longer being played or spoken, and becomes thereby an "echo" of the voice of the bicameral mind.
Tatiana Sukhareva, current MQ Artist-in-Residence is a contemporary artist who lived and worked in Moscow until May 2022. In her recent works she is exploring themes of biopolitics, power relations and the influence of manipulation on public consciousness. Her personal synesthetic experience of grapheme-color synesthesia is also an important part of her practice.
Moderation: Simon Mraz
The event will take place in english.
Back to main navigation