09.09.2022 to 13.11.2022 - MQ ART BOX
Host: Q21
Marina Sula: You May Never Know What's Causing All the Traffic
FREE ENTRY, ART
---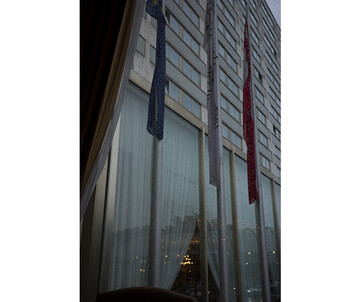 Marina Sula's practice spans photography, sculpture, and installation. She appropriates elements from the realms of industry, design, and advertising to construct highly controlled yet ambiguous environments. Her interest gravitates towards objects and sites that problematize the distinction between original and generic, individual and collective, private and public, such as waiting rooms, offices, and airports. In blending the persuasive, utilitarian language of forms specific to industry and advertising with more intimate registers, her work transmits a similar sense of ambiguity. The image is not usually limited by its framing, but rather integrated into its spatial surroundings. This context-orientated approach often leads to well disordered relations: the pictorial and spatial layers replenish, traverse and confuse one another. There are interferences, reinforcements and, in particular, contaminations and disturbances.
Characterized by a constant push and pull between representation and object-hood the work finds balance in concealment and disguise through surfaces.
Marina Sula (*1991 in Lezhë) is an Albanian-Italian artist who lives and works in Vienna. She studied Fine Arts and Photography at the Academy of Fine Arts in Vienna.
Solo exhibitions include: Counter, Bazament, Tirana (2022); You may never know…, Kunstverein Ciap, Genk (2021); I'm Sorry, I can't, don't hate me, Gabriele Senn Gallery, Vienna (2019); Warten at Viennacontemporary (2019); What is it like…, at Kunstverein Kevin Space, Vienna (2016).
Her work has been shown in group exhibitions at: Austrian Cultural Forum, Berlin (2022); Calli Rhoë, Athens (2022); Galerie der Stadt Schwaz (2021); National Gallery of Kosovo, Prishtina (2021); GAM Fondazione Musei, Turin (2020); PCP Gallery, Paris (2020); Kunstverein Kevin Space, Vienna (2020); Nir Altmann, Munich (2020); Kunstforum, Vienna (2020), Belvedere 21 – Museum for Contemporary Art, Vienna (2019); Croy Nielsen, Vienna (2018) among others.
Curator: Elisabeth Hajek
Back to main navigation