13.05.2021 to 08.07.2021 - MQ ART BOX
Host: Q21
Lukas Posch: Zugzwang
FREE ENTRY, ART
---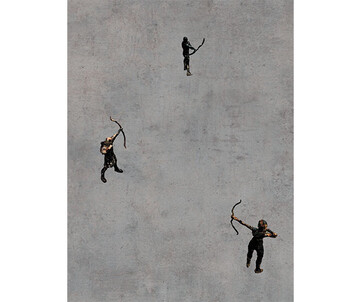 ---
All dates
• Days with event
01 sat
02 sun
03 mo
04 tue
05 wed
---
06 thu
07 fri
08 sat
09 sun
---
10 mo
---
11 tue
12 wed
---
---
---
---
---
---
---
09 fri
---
10 sat
---
11 sun
12 mo
13 tue
14 wed
15 thu
---
16 fri
17 sat
18 sun
---
19 mo
20 tue
---
21 wed
22 thu
23 fri
24 sat
25 sun
---
26 mo
27 tue
---
28 wed
29 thu
30 fri
---
31 sat
Lukas Posch's installation Zugzwang shows a constellation of small, painted hand-made sculptures. They are caught in a triangle of condition-situation-action, within a formation in which the autonomy of each individual element can only be grasped within its installative setting.
In general, zugzwang means the need to perform an action, to achieve something, or to make a decision at a certain moment in time. In chess and other turn-based games, Zugzwang refers to a situation in which the player is unavoidably placed in a disadvantageous position due to the obligation to move. Even if it would be more advantageous not to act, the rules require a move, even if all possible moves would result in defeat.
Games are regulated activities in which rules are followed. Each player takes a position in a space or forum defined by the rules. This space or forum is also the result of conflict over the conditions or situation leading to the action. In this respect, the game, the players and the moves only exist under the structured constraints and possibilities of the rules of the respective game, which are situated in time and thus potentially changeable.
The question of negotiating the rules with a view to possible moves and future constellations connects two realities: that of the players and that of the game. The figure carrying out the moves manages without a traditional form of subjectivity and has no identity; rather it assumes one or more temporary identities in order to chart a determined progress: it is defined by the next steps it will take and not only by what it is at a particular moment in time.

Lukas Posch (*1988 in Hall in Tirol)
lives and works in Vienna. He studied painting and animated film and trans media arts at the University of Applied Arts Vienna and the University of Newcastle (UK). In 2014 he founded the exhibition space wellwellwell.
Exhibitions at Galerie Martin Janda, Vienna 2020; Kunsthalle Exnergasse, Vienna 2020; e++, Vienna 2020; Belvedere 21, Vienna 2019; Kunstraum Tirol 2019; SPIKE, Berlin 2018; Fettes College, Edinburgh 2018; wellwellwell, Vienna (Solo) 2017; Museum Villa Stuck, Munich 2018; Universitätsgalerie Heiligenkreuzerhof, Vienna 2018; Galerie der Stadt Innsbruck (Solo) 2016; Kunstraum Innsbruck 2014 among others.
Back to main navigation