28.08.2022 to 26.11.2022 - TONSPUR_display
Host: Q21
Lee Ranaldo & Leah Singer: IN CAMERA
FREE ENTRY, ART, FILM & DIGITAL CULTURE
---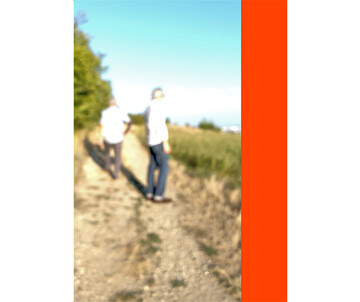 ---
All dates
• Days with event
01 mo
02 tue
03 wed
04 thu
05 fri
---
06 sat
07 sun
08 mo
09 tue
---
10 wed
---
11 thu
12 fri
13 sat
14 sun
15 mo
---
16 tue
17 wed
18 thu
---
19 fri
20 sat
---
21 sun
22 mo
23 tue
24 wed
25 thu
---
26 fri
27 sat
---
---
---
---
---
---
---
---
---
27 sun
---
28 mo
29 tue
30 wed
---
Opening: Sun 28.08., 17h
Video, 6'13'', 2022
A walk in Vienna and the countryside becomes a self-contained journey confined to a form painted on the glass wall of the TONSUR_display – itself a contained space of odd angles.
In camera is a Latin term that means in my chamber or in my room. It is used in law to refer to a private meeting. This video was created in camera using an iPhone and a film app that allowed for live manipulation of focus and exposure.
Although TONSPUR_display is a public space you can imagine this walk as an act of solitude.
Image: IN CAMERA © Leah Singer, TONSPUR Kunstverein Wien
Back to main navigation