30.09.2022 to 29.03.2023 - Sternenpassage
Host: Q21
Dimitrios Mavroudis
FREE ENTRY, ART
---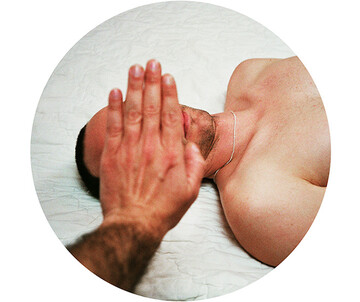 ---
All dates
• Days with event
You have selected the following event:
01 thu
02 fri
03 sat
04 sun
05 mo
---
06 tue
07 wed
08 thu
09 fri
---
10 sat
---
11 sun
12 mo
13 tue
14 wed
15 thu
---
16 fri
17 sat
18 sun
---
19 mo
20 tue
---
21 wed
22 thu
23 fri
24 sat
25 sun
---
26 mo
27 tue
---
28 wed
29 thu
---
Opening and Catalogue Presentation Lumen Zine #9: Fri 30.09., 19h
The artist will be present.
Curator: Sabine Jelinek
The stars in the sky once primarily served as aids to navigate our life here on Earth: for instance, to decide when to sow the crop in the agricultural cycle or to determine one's ship's position at sea. We knew that the stars invariably followed a fixed trajectory. So, we didn't have to reach for the stars. It would have been downright nonsensical.
The hands stretched out into the sky in the photographs of Dimitrios Mavroudis's series Behind the Sun don't seem to be reaching for much of anything anyway. They resemble chestnut leaves unfolding their feathery blades in the sun. They strive toward an existential light source while partially covering it. In succinctly poetic fashion, the series uses photosynthesis as a metaphor to give expression to one of our great yearnings: I see them as pictures of longing to be included in the nutrient cycle, like a plant – which is to say, vgetatively connected to the forces of the entire universe. That such longing resonates with many is not least demonstrated by the sensational success of South Korean writer Han Kang's novel The Vegetarian (English edition 2015), which tells the unsettlingly beautiful story of a woman who wants to turn into a tree.
The second series by Dimitrios Mavroudis, Johann, however, contextualizes this longing for connection in a body of flesh and blood. The series portrays a young man in the nude. Most photos show him reclining in a full bathtub. The warmth of the water permeates him and gives his face and his skin a reddish glow. The photographer captures the moment not just with a voyeuristic eye: His camera also grabs the man as a veritable phenomenon of light. The young man thus seems like an earthly personification of Eos, the graceful, rosy-fingered goddess of the dawn. Like her sisters, the golden goddess Helios and the moon goddess Selene, Eos also has to do with the origins of light. And so, they are predestined for the medium of photography and for reflection, never graspable for our hands.
Even we on Earth are sometimes each other's stars.
Text: Vitus Weh (*1965) is an exhibition organizer, art critic and curator for art in architecture. 2002 conception of the Q21 / MQ Wien, since 2006 establishment of micromuseums and thematic passages there. Since 2013 artistic advisor and curator of the Esterházy Private Foundations. Since 2018 president of the Kunstverein Eisenstadt. He lives in Vienna.
Dimitrios Mavroudis (*1991 in Minden, Germany) completed his diploma studies in painting and graphic arts at the Linz University of Art with distinction. Since graduating in 2016, he has been working increasingly in the field of photography, often using installation and multimedia formats. He currently lives and works in Berlin.
In July 2021 he was a guest at MuseumsQuartier Wien as Q21 Artist-in-Residence.
Bild: Aus der Serie Behind the Sun © Dimitrios Mavroudis
Back to main navigation