05.09.2022 to 06.11.2022 - Raum D / Q21
Host: Q21
Daniel Theiler: deus ex machina
FREE ENTRY, ART, FILM & DIGITAL CULTURE
---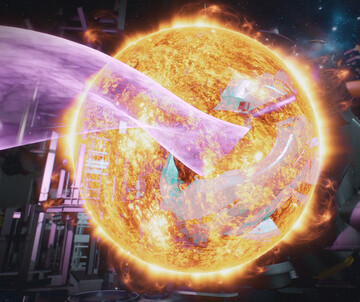 Opening: Mon 05.09., 18h
Man-made climate change is the biggest challenge of our century. Especially in times when other crises such as pandemics and wars dominate the news, a way out of the looming climate catastrophe seems a long way off.
In film or theatre, a sudden turn for the better in a hopeless situation, typically brought about by the unexpected appearance of a new character, is called a deus ex machina moment. Examples include the king's messenger on horseback in Brecht's Threepenny Opera, the resurrected Gandalf in Lord of the Rings, the Knights of the Veil in Game of Thrones: They come out of nowhere and solve all the problems at once.
The fusion reactor could be the deus-ex-machina for the climate crisis. Advocates of nuclear fusion technology praise it as a quasi-religious promise of salvation: A future technology that solves all climate problems of fossil energy and all safety and sustainability problems of nuclear energy all at once.
The video work links the promise of nuclear fusion with the concept of deus-ex-machina. Original sequences of deus-ex-machina moments from film and theatre interweave with animations, images of nuclear fusion, and fossil energy production. In this way, the work addresses both the potential of nuclear fusion and its problematic solutionist nature, namely the promise of a future technical solution to today's problems, in an abstract-artistic way. In addition, the work stages the contradictions of the theme through the contrast between the technical status quo and popular deus ex machina moments.
Daniel Theiler is a German-Turkish visual artist, filmmaker and architect and Q21 Artist-in-Residence in August and September 2022.
He was a master student with Nina Fischer in Art and Media at the UdK Berlin. He studied art at Bauhaus University Weimar with Danica Dakić and at the School of the Art Institute of Chicago (Master of Fine Arts) and architecture at TU Berlin, ETH Zurich and University of Strathclyde Glasgow (Dipl.-Ing.). Theiler's conceptual and site-specific art explores spaces and their embeddedness in historical and cultural contexts using analog and digital media ranging from video, photography, and sculpture to public interventions and websites, often resulting in hybrid works that combine different media. He humorously plays with conventions by reorganizing spatial, architectural, and social formations.
Theiler is particularly concerned with the themes of reconstruction and vision, status and inclusion. The relationship between utopia and social reality is a recurring theme in his work. Theiler's award-winning works have been shown internationally and are part of the Contemporary Art Collection of the Federal Republic of Germany and the Staatliche Kunstsammlungen Dresden. He lives and works in Berlin and Leipzig.
Back to main navigation