25.10.2023 to 05.12.2023 - Brückenpassage
Host: Q21
Daniel Fonatti: ghosttown
FREE ENTRY, ART
---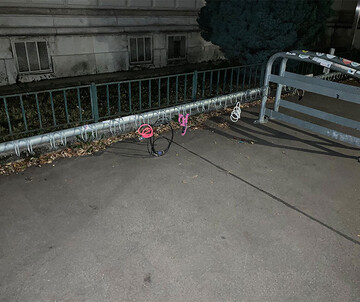 Opening: Tue 24.10., 7 – 10h
Every little town on the island had a hotel.

To appease the appetites of guests arriving from every possible direction of the continent, a merge of the specialities representing the different regions of the tectonic plate was assembled. "[...] by creating security through the known and at the same time satisfying curiosity. It was to be what was considered good pop."

The continental breakfast,

continental roughly translated contiguous lands, seemed to unite culinary representations from all points of the compass. Much like supergroups in music or the all-star team in basketball. Usually served between 07:00 and 10:00 a continental breakfast includes: orange juice, black tea/coffee, mostly filtered coffee, pastries: croissant, dry toast and dark bread. Northern fruit in the form of jams and spreads. for the savoury: sliced cheese and ham. Eggs and cereals optional.

Text and photo: Daniel Fonatti

Daniel Fonatti, born 1994 in Vienna, lives and works in Vienna.

"Pfeiler" is an exhibition space in the Brückenpassage/MQ.
Every three months, a work by graduates of the Sculpture and Space Department is on display here.
Back to main navigation