04.12.2019 to 19.01.2020 - frei_raum Q21 exhibition space, Jan Arnold Gallery
Host: Q21
Living Studio – Creative Process 2019
FREE ENTRY, LITERATURE & DISCOURSE, ART, DANCE/PERFORMANCE/MUSIC
---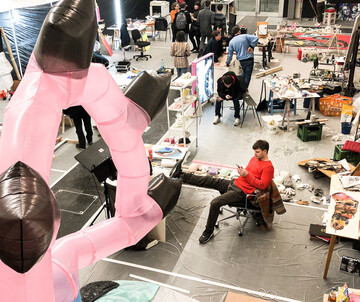 ---
All dates
• Days with event
01 sun
02 mo
03 tue
---
---
---
---
---
19 thu
20 fri
---
24 tue
25 wed
---
26 thu
27 fri
---
28 sat
29 sun
30 mo
---
31 tue
01 wed
02 thu
03 fri
04 sat
05 sun
---
06 mo
---
---
---
---
20 mo
---
21 tue
22 wed
23 thu
24 fri
25 sat
---
26 sun
27 mo
---
28 tue
29 wed
30 thu
---
31 fri
Living Studios: 04.12.-18.12.
Vernissage: Fr, 20.12., 19:00
Exhibition: 21.12.-23.12. & 07.01.-19.01.2020

Venue: frei_raum Q21 exhibition space
We proudly announce 17 artists, who will participate at the second edition of 'Living Studios'.
The latest edition of the art project 'Living Studio' transforms frei_raum Q21 exhibition space at MuseumsQuartier Wien into work places for artists, which are open to public.
The projects of the artists can be experienced and give an insight into creative work processes. After two weeks of working and creating at the public space frei_raum Q21 exhibition space, the artworks will be presented in an exhibition.
Ususally at common exhibitions final results are displayed, while the process of creating and making art remains in the dark. In contrast to this the project 'Living Studio' approaches to give a glimpse into the activities of artists, to show the processes of creating art and to strengthen the understanding of art away from museums. This also stimulates the dialogue between artists and art-consuments and offers an easy access to the field of arts in general.
Furthermore the situation of having a lab offers the artists to try out different ways of working, to invite the public to partcipate and to cooperate with other artists. Also strategies of advertising themselves can be experienced by the artists. This helps to figure out potentials on the one hand and to identify difficulties on the other hand. Especially exchange and cooperation finds room at 'Living Studio'.
Artists 2019:
Elisa Alberti (DE), Simon Goritschnig (AT), Merlin Kratky (AT), Stefan Kreuzer (AT), Maria Legat (AT), Daan Lievense (NL), David Mase (AT), Neda Nikolić (RS), Franka Rothaug (AT), Denise Rudolf Frank (AT), Skero (AT), Peter Tauber (HU), Soybot (AT, IT), Stephen Tompkins (US), Vain Casting (AT)
Q21 Artists in Residence:
Erwin Blok (NL) Drucker (Masterclass / Workshop Mimeographie mit den Künstlern)
Artiste Ouvrier (FR) Stencil (#streetartpassage)
Curators:
Sebastian Schager, Joseph Rudolf, Markus Grabenwöger
frei_raum Q21 exhibition space
Back to main navigation