09.10.2019 to 23.10.2019 - frei_raum Q21 exhibition space
Host: Q21
Midori Mitamura: Art and Breakfast Japan Unlimited
FREE ENTRY, ART
---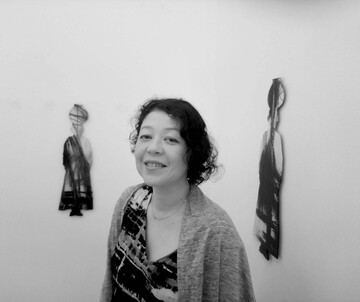 ---
All dates
• Days with event
01 tue
02 wed
03 thu
04 fri
05 sat
---
06 sun
07 mo
08 tue
---
10 thu
---
11 fri
12 sat
13 sun
14 mo
15 tue
---
16 wed
17 thu
18 fri
---
19 sat
20 sun
---
21 mo
22 tue
24 thu
25 fri
---
26 sat
27 sun
---
28 mo
29 tue
30 wed
---
31 thu
As part of the exhibition "Japan Unlimited" curated by Marcello Farabegoli, Artist-in-Residence Midori Mitamura invites you to join her project "Art and Breakfast".
"Art & Breakfast " is an art-project that the artist Midori Mitamura produces art works as staying in the art space.
Art & Breakfast starts from eating breakfast together with visitors.
Ordinary objects in the space are transformed into new art works, based on images or memories stacked in her journeys, and numbers of small installations fill up the space.

What is Art & Breakfast ?
The art-project with the breakfast that makes art works as staying.
The origin of the word comes from B&B (Bed & Breakfast)
To eat breakfast together is one of the most effective actions that people can feel friendly each other.

Living and Making
The artist creates improvised installation at the space day by day.
As materials, the artist collects ordinary objects in residence; newspapers, magazines, toys, daily stuffs or any kind of objects.
Those materials are combined with short words or poems that hit on to the artist and they are transformed into art pieces.
Finally art work starts talking to people what the artist is thinking directly at real time.

More directly and simply
Usually, the artist has focused on human memories or lives that relate to our emotions coming from daily life.
However we are living in different generations, histories, countries or environments, we can share our emotions that happen in everyday life in each other.
For that, the artist takes long time for deep research and many processes and then realizes three-dimensional vision where people can step in.
It is very different from usual installation works that are built up by several days.
"Art & Breakfast" makes the artist possible to express ideas more directly and simply than usual exhibition. In that space, feelings or atmosphere are shared with people intimately.

Transient memories being alive within visitors
Finally the space is filled up with many small installations.
Same installation will be never presented at any other space again.
It exists just for short time sympathizing with our transient memories
frei_raum Q21 exhibition space
Back to main navigation