20.07.2019 to 20.07.2019 - Boule Bahn
Host: Q21
Dance of Urgency @ frame[o]ut: Activism
FREE ENTRY, ART, FILM & DIGITAL CULTURE
---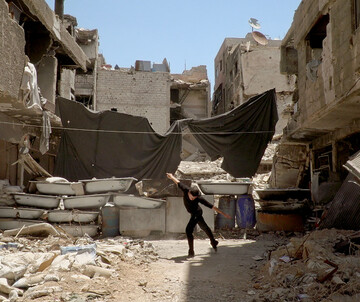 ---
All dates
• Days with event
01 mo
02 tue
03 wed
04 thu
05 fri
---
06 sat
07 sun
08 mo
09 tue
---
10 wed
---
11 thu
12 fri
13 sat
14 sun
15 mo
---
16 tue
17 wed
18 thu
---
19 fri
---
21 sun
22 mo
23 tue
24 wed
25 thu
---
26 fri
27 sat
---
28 sun
29 mo
30 tue
---
31 wed
As part of the DANCE OF URGENCY at frei_raum Q21 exhibition space curator Bogomir Doringer presents selected works on the subject of music and dance as a form of political activism.


►21:00
Introduction by Bogomir Doringer (curator)

►21:15
Short documentaries NAJA / AYED (2018) and world premiere of SAMA (2019) by JAN BEDDEGENOODTS, experimental film DANCE OR DIE (2019, D: Naja Orashvili & Giorgi Kikonishvili)
Jan Beddegenoodts will be present.

Filmmaker Jan Beddegenoodts reacted to the topic of music and activism with three short documentaries. He spent time with strong individuals who are part of big collective movements stemming from Georgia, Palestine and Israel. In the coming months he will be producing two more films in Brazil, and in the USA.
NAJA - Naja Orashvili is one of the thriving forces behind BASSIANI club and the White Noise movement.
AYED - Ayed Fadel is a member of Jazar Crew and one of the leading figures in the Palestinian underground cultural scene.
SAMA - Sama Abdulhadi is a Palestinian techno queen who began blasting around the globe following her performance at Boiler Room, providing visibility and empowerment for her country.
Dance or Die is an experimental film by Naja Orashvili and Giorgi Kikonishvili (BASSIANI) that looks into the political significance of dancing, and how club spaces paved the way for a totally new youth culture in Georgia. It recreates the path from primordial Georgian folk dance rituals, from which the BASSIANI concept was created, to modern day collective club dancing for freedom.

►22:00 DANCE OR DIE, NL 2018, 54min., D: Roozbeh Kaboly
Dance or Die is Syrian dancer Ahmad Joudeh's (27) life philosophy. It's tattooed in his neck.
Dance is Ahmad's life, but it's become impossible for him to practice dance in his war-torn city of birth Damascus. He seized the opportunity to flee Syria. He's been living in the Netherlands for 18 months and he dances in productions by the National Ballet, among others.
His story has been captured by media worldwide and he performs nationally and internationally, with stars like Sting and dancer Roberto Bolle. Yet he struggles with his new life. He misses his family, still living in Syria. And there's a lot of pressure to make it here.
What is the price Ahmad pays for his newly acquired freedom? Director Roozbeh Kaboly filmed Ahmad for the Dutch tv programme 'Nieuwsuur' in 2016 and has followed him closely ever since. With Dance or Die he made a probing documentary about resilience and the yearning for autonomy.
Back to main navigation